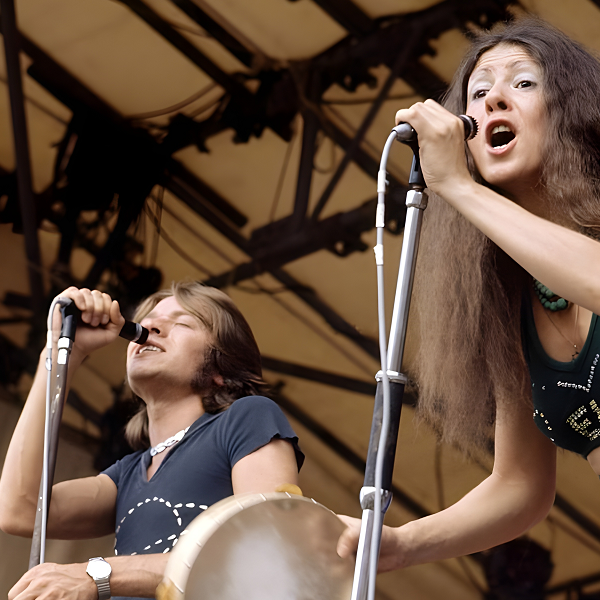 This was taken at Reading Festival, three months after we released the first Vinegar Joe album with Island Records. In the three years that the band existed, between 1971 and 1974, we released three albums. We were never huge, but we were very popular with students and played a lot on the university circuit. Playing at a festival was always a real high point for the band and I remember this time vividly. Status Quo, whom we used to support quite often, were also on the line-up.
Robert Palmer and I were very competitive; I suppose that was understandable because we were both lead singers in Vinegar Joe. But outside the band we used to get on very well. When we were on the road we would often go off on our own, find a bistro and enjoy a nice bottle of wine and a meal together (although mostly we lived on food from motorway services because we weren't paid much). Robert was a very good-looking guy, and so girls that we met used to be well pleased when they found out that we were not an item.
I used to buy a lot of my outfits for the stage from secondhand shops and the antique market on King's Road in London.
I lived around the corner in Fulham. I remember this bikini-type top very well. I embroidered my name on it with diamanté, just in case you didn't know who it was. And a fan gave me the skirt, which came with a matching top.
I really found myself when I was in Vinegar Joe, and became very outgoing and uninhibited. I had released my first record, Something's Got A Hold On Me, in 1964. It didn't do very well and, despite touring with the Animals and supporting the Beatles for three weeks, I lacked confidence. Then, after Vinegar Joe, in 1977, when I had given up thinking I was ever going to get anything in the pop charts, my single Pearl's A Singer reached number eight. It was released on my birthday, February 25.
I think Island Records always saw Vinegar Joe as something of a rehearsal band for Robert, and when we split up, the whole band was definitely smarting for a few months. Robert felt I was very pissed off, and although I really never held a grudge we didn't keep in touch and our paths never crossed, which was a huge shame (Palmer died in 2003). I kept in touch with his parents and his brother and they have been to my shows over the years. I admired Robert so much and I recorded his song Circles for my album of the same name in 1995. And if that isn't a tribute to his great ability, then what is?
Interview by Georgia Dehn (Telegraph Magazine - 2010)