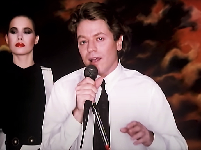 Robert Palmer's Addicted To Love — which hit No. 1 on the Billboard Hot 100 35 years ago — is best known for its brilliantly idiotic video, which features the singer performing in front of five stunning mannequin-like models bearing vapid facial expressions and holding musical instruments that they're not even pretending to mime convincingly. They can't dance either, and only occasionally move in time with the song's rhythm. It's utterly ridiculous (Palmer's face throughout the video shows he knows it, too) and absolutely iconic at the same time.
There's little question that the Terence Donovan-directed visual earworm (eyeworm?) played a pivotal role in driving the song — which was originally released six months earlier on Palmer's Riptide album — to No. 1 on the chart dated May 3, 1986, knocking Prince and the Revolution's Kiss from the top spot for exactly one week before giving way to the Pet Shop Boys' West End Girls. The video is oddly unforgettable and spawned countless imitations and whatever passed for memes in the mid-1980s — so much that it overshadowed the song, which is in a league of brilliant stupidity all its own.
Any songwriter worth their salt will tell you that a certain amount of simplicity is half the battle — after all, what good is art that no one wants to see or hear? And clearly, the brilliant musicians that producer Bernard Edwards assembled for Addicted To Love — a song of Neanderthal-level simplicity — understood that.
The song is built around a lunkheaded A-G-D-A chord progression that you can play on two guitar strings, and like the video, is nevertheless impossible to get out of your head. And although the musicians did manage to slip in some sly licks, in the parlance of the era, they checked their egos at the door and served the song.
Holding down the all-important beat is the Chic rhythm section, Edwards on bass and Tony Thompson on drums — the same guys who inadvertently built the foundation of hip-hop when the rhythm track of Chic's Good Times was incorporated into Sugarhill Gang's 1979 hit Rapper's Delight, the first widely popular rap song. Thompson (who also worked with Chic co-founder Nile Rodgers on David Bowie's Let's Dance album) plays a thwacking two-four rhythm — showing off with an open hi-hat flourish on the three that gives the song one of its key hooks — cranked up to booming volume in the way that only '80s drums can be, and makes it crunch even harder by playing as far behind the beat as humanly possible. Edwards makes this slow and very stompy song dance with a simple but amazingly funky bassline that anchors the riff while also making it elastic (his bassline dances exponentially better than the models in the video).
That grinding guitar riff, of course, is the center of the song. While Duran Duran's Andy Taylor contributes a squalling, impressively dumb solo at the end, the main riff comes from Eddie Martinez, who played the screaming guitars on Run-DMC's groundbreaking 1984 rap-metal anthem Rock Box. Keyboardist Wally Badarou (who not only worked with Grace Jones and Herbie Hancock but played the stunning synthesizer solos on Talking Heads' Burning Down The House and This Must Be The Place) brings those sweeping keyboard hooks and the subtle, skittering sequencer that underpins the song's rhythm.
Finally, there's Palmer himself, the song's sole credited writer, who was one of the best British R&B singers of his generation but keeps it relatively low-key here, delivering a suave and soulful vocal that, on the chorus, he practically turns into a percussion instrument ("Ah-dick-tid-to-love"). Even his outfit in the video conveys restraint: Wearing a starched white shirt, black tie and high-waisted black pants, he looks like a businessman whose idea of casual is taking off his jacket.
And yet, Palmer didn't intend to sing by himself: Addicted To Love was recorded as a duet with R&B icon Chaka Khan — but her vocal was dropped before the song was released.
Palmer himself was none too pleased by that development. "Politics intervened," the "seething" singer told the Los Angeles Times in 1986. "Her people said it was a conflict of interest. She'd have three singles out at the same time." However, she did get a credit for the vocal arrangement. "She threw parts in and helped develop the song," Palmer said. "I couldn't use her vocals but she deserves credit for what she contributed to the arrangement." While several Palmer-Khan duets can be found on YouTube, sadly, Addicted To Love isn't one of them — if anyone's got a version with her singing on it, please send it here. But having said that, the monumentally talented Khan doesn't really do stupid, so without hearing the song it's hard to say how in on the joke she might have been.
While Palmer had worked with a wide range of musicians over the course of his career — from the Meters to Little Feat — this unusual combination was probably the single best thing to come from the Power Station, the odious "supergroup" comprised of Palmer, Edwards, Thompson, Taylor and his Duran Duran bandmate John Taylor that took its name from the famous New York Studio and released an absolutely dreadful but commercially successful album in 1985 led by a bilious cover of T. Rex's Get It On (Bang A Gong). Those musicians had intended to work with a variety of singers, but hit it off with Palmer so well that they did the entire, hastily recorded album with him. However, he declined to join an equally hastily organized tour and appearance at Live Aid in order to work on Riptide, but most of the musicians reunited for this song. Interestingly, they show none of the restraint on The Power Station that they do on Addicted — Thompson showboats all over the album.
Sadly, the key people involved in the song aren't able to talk about any of this: Edwards and Donovan died in 1996; Palmer and Thompson passed away within two months of each other in 2003.
Yet the song, the video and their influence remain — it was even referenced in a Britney Spears Pepsi commercial 10 years ago — and for musicians, it's living proof of the importance of serving the song. Addicted To Love is so effective because it's performed by top-flight musicians not overthinking it, and just giving the song what it requires. Like so many AC/DC songs, it sounds simple, but it isn't at all.
Is it brilliantly idiotic or idiotically brilliant? Of course, it's both: In fact, no less a connoisseur of brilliant idiocy than Slade frontman Noddy Holder — the man responsible for such classics as Cum On Feel The Noize and Mama Weer All Crazee Now — told Soundchecks Music Review: "The one main song that I wish that I'd written and recorded is Addicted To Love by Robert Palmer. To me, that's a perfect pop song."
Indeed, it's hard to think of a more shining example of the oft-quoted line from another iconic piece of art from the era, "This Is Spinal Tap": "It's such a fine line between stupid and clever."
Jem Aswad (Variety - 2021)