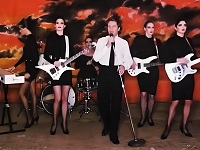 The music world was in shock last night after the death of British singer Robert Palmer from a heart attack.
Palmer, 54, whose biggest hit was Addicted To Love, collapsed in a hotel room in Paris at 2am.
His stunned manager and pal Mick Cater said: "Robert had not been unwell and has no history of heart problems. It is all so sudden."
The star's distraught girlfriend Mary Ambrose made a desperate call to hotel staff when he collapsed, even referring to Palmer as her husband.
A source at the Warwick hotel said: "She was sobbing and hardly able to get the words out. She said: My husband is not well. Call a doctor. I beg you, call a doctor."
The source said an ambulance took six or seven minutes to arrive, but despite desperate efforts, paramedics failed to revive Palmer.
He added that he had seen Palmer on Thursday night when he returned from dinner with Mary to his £550-a-night room.
He said: "The night staff recognised him right away. He seemed fine. Nobody on duty suspected he might be unwell."
Palmer, who became famous for his racy videos featuring stunning models, had filmed a documentary about his musical influences just 48 hours before his death.
The show's producer, Mark Witty, said last night: "He was in fantastic form. He didn't look at all ill."
Duran Duran star Andy Taylor, who played guitar on Addicted to Love, said: "I loved the guy and will miss him terribly. I am in shock."
Lulu said: "He was so young, and one of the greats."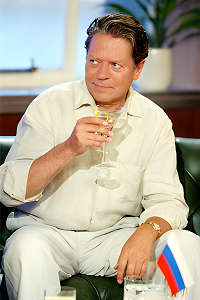 Elkie Brooks, who sang with Palmer in the band Vinegar Joe, said she was "devastated".
She added: "Robert was a star. He was a great writer, a fabulous musician and a great singer. And he was stunning looking."
"Robert was always one that wanted to be different, to be trendy, from how he looked to the music. He wanted to be a step ahead."
Singer Paul Young said: "Robert loved music, all music. I've known him for years, we had the same management company. We used to sit and talk into the night, talking about all music. I'll really miss him."
Palmer, well-known for his smooth image and immaculate appearance, was born in Batley, West Yorks, in 1949 and joined his first band at 15.
His solo career started in 1974. He made the top 20 in 1982 with Some Guys Have All The Luck.
In 1985, Addicted To Love reached No5 in Britain and No1 in the US.
The video, featuring a "band" of black-clad models, won a Grammy award. Simply Irresistible was another big hit.
Father-of-two, Palmer was married for 22 years, but was divorced from wife Sue in 1993. He had lived in Switzerland for the past 16 years.
He released his final album, Drive, in May with his son Jim, 25, playing the drums on it.
Last year, he said a doctor had told him he had high blood pressure. He said: "Otherwise, I'm in perfect health. I thought: That's nice. I'll have a Martini'."
A police spokeswoman in Paris said: "'We will carry out an autopsy early next week. It may be that Mr Palmer was taking medicine and if he had been drinking it may have caused a heart attack."
(The Sun - 27 Septembre 2003)