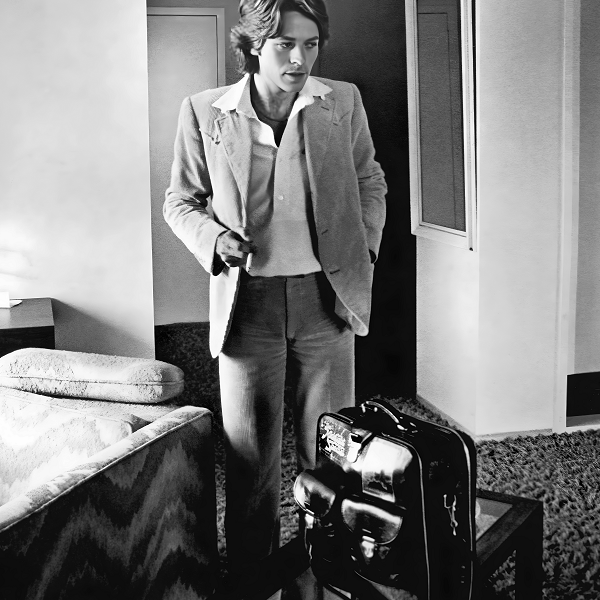 With his fashionably short blond hair, French silk shirt and digital-readout wristwatch, Robert Palmer looks more like an Esquire fashion model than a British rock star. But instead of the icy macho stance in which those men always seem to get photographed, he's sitting with one leg thrown casually over the arm of his chair, grinning broadly and swirling some Meyer's dark rum in a Continental Hyatt House glass. He's taken time out from packing a huge pile of soul records to talk about Sneakin' Sally Through The Alley, his debut solo album, and his next effort, Pressure Drop, scheduled for October release. But what he mainly wants to do, it seems, is enthuse about America and its musicians.
"I'm going back to England tonight and I'm thinking, 'Great, I can hibernate and write some songs,'" said Palmer, who had just finished work on Pressure Drop. "This place just makes you be alive; there's a tempo and you've gotta get in and enjoy yourself. I love it." One can scarcely blame him. Coming to America to record has made all the difference for Palmer, whose music - songs like his own Hey Julia and Allen Toussaint's Sneakin' Sally Through The Alley - is a weird mixture of British rock and black American funk.
Palmer started his career in school with a semipro band called the Mandrakes. For a couple of years, he wrote their songs and ran their business while working the day as a newspaper graphic designer. Alan Bown, a trumpeter who fronted one of Britain's first horn bands, saw the Mandrakes and asked Palmer to join him. After a year and a half with Bown, Palmer left to help form a jazz-rock outfit called Dada, which later pared itself down into Vinegar Joe. The band was popular but it got bogged down.
"It was just this mechanical thing," he said. "And it got so that the last year, I would make up these cassette tapes of my favorite stuff to listen to while I was on the road. I'd just sit traveling with these headphones on, get to the gig, sit around with them on until I'd see people changing and go, "Oh! Time for the gig," get onstage, go dinga-dinga-dinga, go off, slip the phones back on, ..." When Vinegar Joe fell apart, Palmer returned home, where he began writing and recording by himself in his studio.
Island Records owner Chris Blackwell asked to hear the demos and suddenly things started happening at a dizzying pace. Blackwell started setting up sessions and, three weeks later, Palmer found himself at Media Sound in New York, surrounded by some of his dream musicians, top-flight R&B sessionmen Cornell Dupree, Richard Tee and Bernard Purdie. "My interpretation of what they were up to and their interpretation of what I was up to jelled immediately. It was like party time. Some of the tunes on the album are first takes." With the New York sessions done in a flash, he headed to Allen Toussaint's Sea-Saint Studios in New Orleans to record with the Meters and Little Feat's Lowell George. "A half-hour after we sat down in the studio, Sailin' Shoes was cut. Lowell's wife suggested Sneakin' Sally Through The Alley and we played the demo through twice, broke for lunch, ran through it again and that one was down." It wound up as the title cut of the first album.
Pressure Drop came just about as smoothly. Half was recorded in Baltimore with Little Feat and the other half in L.A. with Feat's Bill Payne and Paul Barrere on keyboards and guitar, Motown legends James Jamerson on bass and Ed Green on drums, and Barry White's arranger, Gene Page, conducting a 32-piece string section. "I wanted to make the romantic tunes more romantic without losing that straight-ahead bluesy sort of funky thing, and the funky ones real sparse," he said. About the title tune, a stunning re-creation of the Maytals' reggae classic, he said, "Oh! Such a good feeling! We had to fade it because we played it for 15 minutes. The only reason we stopped was because the tape ran out."
"My basic interest in music is rhythmic," he continued. "If music doesn't affect me physically, forget it. I was in too many bands playing self-indulgent music. Now, James Brown, he's my man... he's got his finger on the button."
With so much of his inspiration over here, Palmer would like to move to the US, probably to Los Angeles, where "I'd live in one of those hospital-like little cubes, totally divorced from the outside." He is talking to Little Feat and the Meters about touring the US together this fall. There won't be any dinga-dinga-dinga this time. "I've found that I've gathered around me a unit of people who have the same enthusiasm for their aspects of rock as I have for mine. I've worked long enough to know that this is what I want to do and people enjoy it, so..." He knocked the rest of the rum back. "Let's get on with it!"
Ed Ward (nc - 1975)