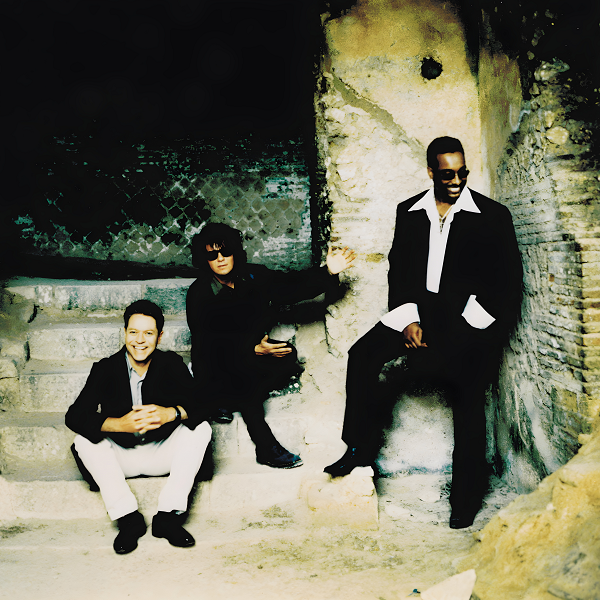 Chance and circumstance played a major part in the formation of The Power Station in 1985, but it took a more determined approach to re-form the group in 1993 and co-create a new album, Living In Fear.
In 1985, Andy Taylor and John Taylor, both then members of Duran Duran, found their paths crossing regularly with Chic drummer Tony Thompson, who was performing on David Bowie's "Serious Moonlight" tour. Andy kept in touch with Tony who eventually introduced him to his close friend and musical associate, Chic bassist Bernard Edwards. They talked of a possible musical collaboration with Bernard as producer. Eventually, Andy and John played some demos for Tony and Bernard, and the trio recorded a cover of T. Rex's Get It On in London. As the project gained momentum, John suggested calling in Robert Palmer, whom he'd met a few years earlier at a club in Birmingham, England. Robert, once he heard the material, immediately aggred to get on board.
The band's name came about by accident. A journalist approached John and Robert as they were walking to the Power Station Studios and asked them what they were doing in New York. "We said, 'We're working in the Power Station,' but we got misquoted in the newspaper as being a band called The Power Station!," Robert explains. "We liked it, so we left it at that."
The resulting album, The Power Station, was a platinum success on both sides of the Atlantic (#6 in the US and #12 in the UK), and spawned the Top 10 hit singles Some Like It Hot (#6) and Get It On (#9 -- one chart notch above T.Rex's original). However, this lineup of the group (Andy, Robert, Tony & John) performed only once in front of a live audience (Saturday Night Live) before Andy and Robert had a "huge ruck." Robert walked away from the band and back to his solo career.
John and Andy first discussed reuniting The Power Station in 1991, but it wasn't until the end of 1993 that they decided to embark on it seriously. Calls to the original members and Bernard Edwards revealed that they were all ready and willing to have another go at it. But this time there was a strong feeling within the band to take a slower, more considered approach to recording. "On the first album we didn't have time for pre-production," recalls Tony. "We respected each other's work and wanted to get together and play, but we started talking music while the clock was ticking in the recording studios and the album was pieced together there. This time we had the opportunity to have pre-production, so we really did an album. We lived together in a house, sat around and wrote, and we had all kinds of material."
Robert brought the skeleton of Life Forces and Fancy That to the initial rehearsal, while Andy contributed embryonic versions of She Can Rock It, Notoriety and Living In Fear. Eighteen songs were whittled down to the eleven which were chosen for the album. The recording process was slow but steady as the band members continued with individual career commitments. Moreover, their homes were scattered around the world: Bernard was based in Connecticut, Tony and John in California, Robert in Switzerland, and Andy in the UK and Spain.
Just when the bulk of the recording was completed, John suddenly went AWOL and eventually left the band and the project altogether. After thinking about it, the band realized the solution was right there. "The most obvious and logical thing to do was ask Bernard to do the bass and it was the best result we could have got," says Andy. "Bernard redid all the bass guitar parts and then we got together with him to finish everything off. He was the best bass player anyone could have brought in and it really made a difference to what we were doing. It really kicked the rhythm section up -- he and Tony are pretty special together."
Then the story took a tragic turn. Soon after mixing the album, Bernard went to Japan to perform in concert with Nile Rodgers. During his visit, Bernard contracted an especially dangerous form of influenza and died suddenly in his sleep in Tokyo on April 18, 1996. He was just 43 years old.
"We had to sit down and take a big, deep breath," recounts Andy, "but it was kind of strange, because within a matter of days, everybody said, 'We can't stop -- we love the record and his contribution on it has been so fantastic, this record must come out at all costs.' And the old maestro wouldn't have had it any other way."
After the album was completed, Andy, Robert and Tony were glad that they carried on through it all. "It's given everyone in the band a real opportunity to be extremely objective -- even cruel! -- about the record and say, 'Okay, we need to redo this and that,'" Robert explains. "To a certain extent the wait's been worth it because we're still as excited about it as we were in the first place."
The breadth of material on Living In Fear is astonishing, ranging from the unshamedly upfront first single, She Can Rock It, and heavy rock sensibilities of the title track, to the funky subtleties of Life Forces and Fancy That. The band members attribute this to the fact that during The Power Station's ten year lay-off, each has been involved in a number of diverse projects -- as performers, songwriters and producers. Living In Fear is also a truly international record. The band members come from both sides of the Atlantic; it was recorded in Los Angeles, New York, Milan and Capri; the engineer, Stan Katayama, is Japanese; and it features guest French keyboard players Wally Badarou and Philippe Saisse, as well as the Tower Of Power horn section.
Ultimately, the success of Living In Fear lies in the fact that this disparate group of musicians has once again captured the chemistry that made The Power Station so successful the first time around. "When you take the cast of characters and all the different influences, there's a bit of everybody in there that makes the whole," says Andy.
At the end of 1996, following the European and Japanese release of the album, The Power Station finally played in front of live audiences again, touring Germany and Japan. They plan to be on the road in the US this fall. "The album was recorded pretty much live, there are no tricks on it, and when we play together it sounds just like the record," says Andy. "This is a group of people who have worked together for the past thirteen years in different formats and we'd rather play the music to people and say 'It's for real,' than hide behind a glossy video and some clever P.R. The most convincing thing to me still is to go out and play in front people, and this band is pretty fearless on that score. We'll play anywhere to anybody."
Official Press Kit - 1996