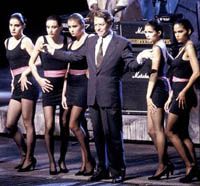 Robert Palmer, a debonair English singer who channeled his fondness for American rock and soul into a string of hits in the 1970's and 80's, died yesterday in Paris. He was 54 and had resided in Switzerland.
The cause was a heart attack, said his publicist, Elizabeth Freund. He was found dead in his hotel room in Paris, where he had gone for a short trip with his companion, Mary Ambrose.
With his suavely grainy voice and songs like Addicted To Love, Bad Case Of Loving You and Simply Irresistible, Mr. Palmer presented himself as a pop Romeo. The 1986 video clip for Addicted To Love, which showed Mr. Palmer backed by a band of deadpan models in little black dresses, cemented his image. But his tastes were more eclectic than his hits suggested. Through more than a dozen albums he mixed his own songs with carefully selected cover versions, delving into reggae, standards, bossa nova and African rock. He had just released the album Drive (Compendia), which reached back to the blues.
Mr. Palmer was born in Batley, in Yorkshire, but his father was a civil servant with Britain's Royal Navy, and he spent much of his childhood on the island of Malta, growing up without television or movies. He began singing as a teenager, working with the Alan Bown Set in the late 1960's and then with a band that first called itself Dada and then Vinegar Joe, which released three albums in the early 1970's.
For his first solo album, Sneakin' Sally Through The Alley in 1974, Mr. Palmer sought out American funk, working with the Meters, from New Orleans, and with Little Feat. Pressure Drop, in 1975, drew on reggae (the title track was a Toots and the Maytals song) and featured one of Mr. Palmer's own soul ballads, Give Me An Inch. Mr. Palmer moved to Nassau in the late 1970's, and had his first hit with the Caribbean-flavored Every Kinda People in 1978. He began producing his own albums with Secrets in 1979, which included his hit version of a song by Moon Martin, Bad Case Of Loving You. His 1980 album, Clues, included Some Guys Have All The Luck, which later became a hit for Rod Stewart.
In 1985 Mr. Palmer made an album with Power Station, a rock group including the drummer Tony Thompson from Chic and two members of Duran Duran. It had hits with a version of T. Rex's Bang A Gong and with Some Like It Hot but disbanded because Mr. Palmer was unwilling to tour.
He brought Power Station's lean, riffing rock to his own biggest hit album, Riptide in 1985, which included the No. 1 hit Addicted To Love and a No. 2 follow-up, I Didn't Mean To Turn You On. He moved to Switzerland, and his hits continued with Simply Irresistible from his 1988 album Heavy Nova, which also dipped into South Arican pop, bossa nova and ballads.
Through the 1990's he continued to try various styles. He sang Tin Pan Alley standards on his 1992 album Ridin' High, showed off African and Caribbean influences on Honey in 1994, reunited with Power Station for a 1996 album, Living In Fear, and released an album called Rhythm & Blues in 1999. In 2000 he recorded a live album at the Apollo Theater in Harlem, and he turned to old and recent blues for Drive, which was released in May 2003. He died shortly after taping a retrospective program, My Kinda People, for Yorkshire Television in England, due to be broadcast in November.
He is survived by Ms. Ambrose; by his children, James and Jane, from a former marriage; and by his parents, Les and Ann Palmer.
Jon Pareles (The New York Times - Septembre 2003)