Most folks at the Smash Hits Cultural Collective (motto: "Good Taste Costs Nothing") are keeping fingers crossed in the hope that Johnny And Mary will finally bring Robert Palmer the major chart success that's been eluding him for so long.
Born in Yorkshire, brought up in Malta, Palmer has served the full rock and roll apprenticeship, singing with sixties dance band The Alan Bown before sharing the stage with Elkie Brooks as a member of the popular but ill-fated Vinegar Joe.
When the latter combo folded up he embarked on a solo career, starting in 1974 with Sneaking Sally Through The Alley. This year's Clues is his sixth album and the strongest commercial proposition so far, with contributions from Gary Numan and tidy selection of appealing material.
Although he's enjoyed a certain amount of success in America, the country where he lives and works these days, Johnny And Mary could be the record that will reward all that hard slog and establish Robert Palmer in his native land.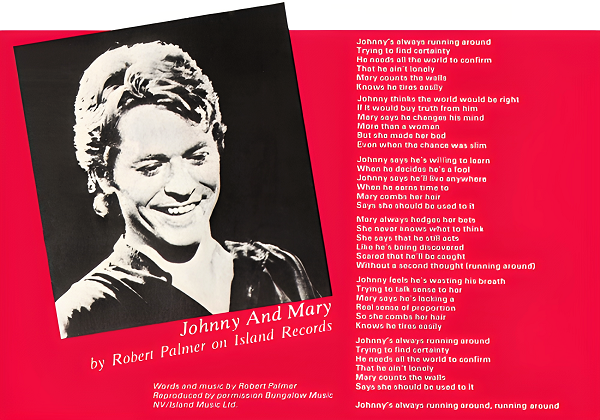 REVIEWS
Robert Palmer: Clues (Island)
Assuming Johnny And Mary is the massive hit it so reachly deserves to be, this shrewdly assembled piece of work could well seal Palmer's status as A Big Star. Moving stylishly between Gary Numan songs, some old fashioned rockers and a few excellent originals, Palmer pulls the maximum out of his small band and establishes himself as a cool, detached but listenable Eighties crooner. Good looking too. Sickening, isn't it?
(7,5 out of 10)
David Hepworth - Smash Hits (septembre 1980)