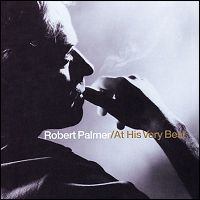 Meeting Robert Palmer is an intimidating experience. A pugnacious manager opens the door and leads us to a living room filled with people - Palmer's son and daughter, his wife, and the man himself, looking dapper in brown leather shoes and a blue Savile Row shirt. His appearance is only slightly ruffled by what looks like a small tomato stain on his shoulder. He's sitting at the table, chain-smoking Dunhills and working his way through a bottle of single-malt whisky. Yorkshire's most famous soul singer has matured into a handsome, outwardly respectable middle-aged man with a raffish undertow.
Palmer's conversation suggests an international lifestyle - a studio in Milan, trips to LA and Rome, a house in Switzerland - but such glamour comes at a price. "I hardly ever get asked about music," he says. "I do, however, get asked about the Addicted To Love video and my suits on a daily basis."
The questions about 1980s pop videos have come thick and fast over the past few weeks. Robert Palmer At His Very Best, a CD collection that spans his career, has just been released, so while evenings have been occupied laying down new tracks in a studio in Hammersmith, Palmer has spent his days "minding my Ps and Qs. You make one off-colour remark and that's all you hear about." He adds in a lowered tone: "And I'm good at those."
Palmer is more complex than his slick image suggests. When he was 15 he called his first band the Mandrakes, in homage to William Burroughs's The Naked Lunch, his favourite book. "Required reading for the young hippy," says Palmer. "It's the beauty of the prose that stuns me. 'A hail of crystal skulls falling slowly through a sky as clear and thick as glycerine.' What a fantastic image! Like a Dore etching."
He paces around the room, animated by enthusiasm. "The Naked Lunch exists because somebody dug Burroughs out of the hole he was in in Morocco. He hadn't left the room for weeks and he was a stinking mess, but there was paper everywhere. So they gathered it up and made it into a book."
Palmer takes music that is important to him on the road, and always at the top of the pile is a 24-track collection of bossa nova master Joao Gilberto's finest moments. "I love a lot of Brazilian music, but nothing has the intimate intensity that Gilberto is able to generate with his voice and his guitar. And it's so sophisticated. You can whistle his songs, but try and learn how to play one. It'll take you a year."
Gilberto is notoriously private, so much so that even his daughter Bebel has complained of not being allowed in the same room as him. He has turned eccentric with age, and is reputed to live in solitude at his Rio home and a series of hotel rooms. Palmer is one of the privileged few to have been granted an audience with him.
"I was eating in a restaurant in Milan and this guy tapped me on the shoulder," he recalls. "It was Gilberto's son. He said that he had heard I was a big fan of his dad's, and would I like to see his concert in Rome. So we went, and it was wonderful. I remember a Learjet passing the crescent moon as he played this delicious piece of music.
"Gilberto's son invited us back to the hotel. I'm with my son and my daughter, and we walk in to see Gilberto wearing sunglasses. He doesn't say a word. My son Jim said to me: 'My God, it's like meeting Brando!' For some reason I mention pot, and his eyes light up and all of a sudden I'm his new best friend. It turns out he's a big stoner, and before I know it I'm being invited back to his house in Rio."
While Otis Redding, Marvin Gaye and Wilson Pickett became Palmer's heroes as a teenager - and the reason he started singing in the first place - he grew up with the music of Gilberto and Nat King Cole in Malta, where his father was stationed with the Navy. "He's perfect," says Palmer of Cole's appeal. "He had perfect pitch. He could start singing and a 36-piece orchestra could join in seamlessly. And he doesn't embellish the songs. I think it's because he was such an excellent piano player - he knew exactly where the notes should fall."
Palmer picks up CDs in every country he passes through. Terence Trent d'Arby, who has changed his name to Sananda Maitreya after receiving an instruction in a dream, gave Palmer his new album. Palmer also recently bought Damon Albarn's collaboration with musicians from Mali ("I would give you my copy, but it's for Oxfam, so buy it yourself") and a CD of the eight-fingered gypsy guitarist Django Reinhardt's solo recordings.
"It's his skill that astounds me," concludes Palmer on Reinhardt's appeal. "He doesn't cover a huge range, but it's exact, and yet you never feel that he's staring at his fingers with his tongue sticking out of his mouth. He was a genius. And there aren't many of them."
Will Hodgkinson (The Guardian - Novembre 2002)