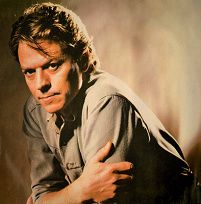 Robert Palmer that is. A maker of tasteful dance records for well over ten years. Big everywhere from Guatemala to the Costa Del Sol. Everywhere except Britain. Surely some mistake, asks Ian Birch?
Robert Palmer's late. An hour en retard in fact. Not what you'd expect from someone with such an impeccable sense of grooming.
Suddenly, he bursts through the door, extremely apologetic. He had gone to the railway station to pick up his parents, the train was late and when it did arrive, no Mum and Dad. He's understandably agitated.
Ten minutes into our chat, the receptionist pokes her head round the corner. "Excuse me Mr Palmer," she confides, "your parents are here." Robert's face lights up like a firework. He rushes off to greet them and returns a happier man.
He doesn't see his parents much nowadays because his British visits are brief and hectic. The last time he was here for any lengthy period was back in '72.
He's in the UK at the moment to finalise the arrangements for a new single, the foot-burning You Are In My System, a new album, Pride, and a European tour that should take up May and June.
His actual home is in Nassau (in the Bahamas). He went there seven years ago for a holiday and liked it so much that he settled.
What's more, it reminded him of Malta where he lived until he was 10 (although he was born in Batley, Yorkshire). After that, it was back to Britain where he later attended art school.
In the late '60s, he tried his hand and voice in various unwieldy jazz-rock groups with names like The Alan Bown Set, Dada and Vinegar Joe, which also featured Elkie Brooks.
In '74, he decided to go it alone and made his first solo album, Sneakin' Sally Through The Alley. This forged a style that he has, ever since, developped and refined. It takes in reggae, African music, American soul and Caribbean rhythms. It's a fiery and seductive brew as Pride yet again shows.
This new album, typically, was assembled in four different locations - Nassau, New-York, Paris and Little Chalfont, a short hop from London. It contains the new single, a cover version of a bone-rattler originally recorded by American band The System.
He discovered the song in a special Paris nightclub that record companies use to sample their latest goods. They give the deejay a record without any information - only a number. If the twilight revellers like what they hear, their deejay notes their reaction down beside the number. This goes back to the record company. The deejay gave Robert a cassette of the song and he recorded it in a day.
Strangely, Robert has enjoyed least success in Britain. Maybe it's because he shuns publicity here or maybe it's because he's more interested in promoting his music than his finely chiselled features. He hates the idea of focussing on just one style and channelling all energies in that direction.
"I'm not interested in those narrow markets," he explains. "You can go for just one good sound but that can also be like a madman with a pepper shaker. He puts a bit of pepper on his food and it makes his food taste good. He then thinks if he puts a lot of pepper on it, it will taste wonderful. But it won't necessarily. I'm not interested in getting a career and making a sound and building it up and being Pat Benatar."
The rest of the world has not been so slow to pick up on Robert Palmer. Let's globe trot briefly with him. America's first.
"Three years ago, I was considered 'pop' music in America. I was doing well with Top Ten songs around the time of the Secrets LP. Now, I'm regarded as avant-garde, believe it or not. Look at the American charts and you know why."
South America?
"I've had hits in Guatemala, funnily enough. Three Number Ones but it's a really difficult market to play because you can't take money out."
Over to Europe. First, Italy. "I've had Number Ones there with Johnny And Mary and Looking For Clues but they still expect someone to get up in a bowtie and do a recital! One day, I drove to Florence to see the statue of David. I was trying to meditate on the statues and there were so many people around me wanting to party!"
Spain?
"Their idea of rock'n'roll is an absolute fantasy - like the English people's idea of a cowboy movie. They meet me at the airport with loads of TV crews and drive me round in big, flashy cars. I hate that."
While we're at it, what about the Far East?
"They treat me like a gentleman because they don't consider me to be part of rock'n'roll which is fortunate because I don't either."
What's an average day in sunny Nassau like?
"I try not to get up before noon because I don't like to be grumpy. My wife's a painter. We've got two children who are off at school. The house is full of toys, tape recorders, hi-fi, instruments and my wife's painting stuff.
I get up and start playing drums or bass until the kids get home from school when they like to watch television. I usually pick what they watch. Their favorite at the moment is The Black Stallion.
In the evening, they get a story read and then, we either read or watch movies until, maybe, midnight. Then, I'll start playing again - singing and writing - through headphones, of course."
And do you ever see Elkie?
"The last time I saw her was the day I left England about nine years ago at a party. She's doing well, isn't she?"
He's not doing too badly either.
Ian Birch (Smash Hits - 1983)