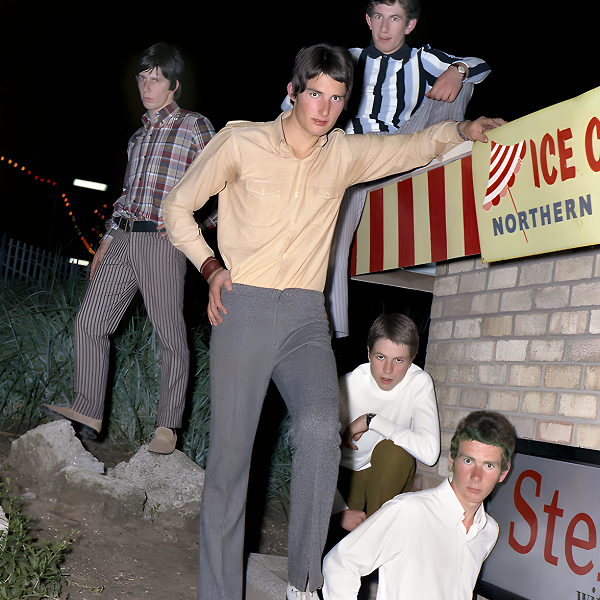 It's all there on the poster: The Who, Bridlington Spa, promoter: John C. Shearme, admission price, 7/6d and the main support act: The Mandrakes, legendary Scarborough band whose famous singer, Allen Palmer became better known to the world as superstar Robert Palmer. What's missing is the year - 1966.

Now, 44 years on, the 20ins by 30ins poster is going under the hammer tomorrow at international auction house Christie's, in London.
It is expected to fetch around £1,500, the price of this modest piece of artwork reflecting the towering importance to music of not just Pete Townshend's rock monster but also the man with the incredible voice, originally from Batley but whose home, since he was a young boy, was Scarborough.

Anne Palmer speaks fondly of her prodigiously talented late son. "I wasn't at the gig, I didn't go in those days, only later. Robert was only 17 and he rarely talked about his gigs. Playing with big artists was just something they did. The Who, Jimi Hendrix ... you can't imagine that these days, can you? "

As Allen Palmer, he was a lithographer with the Scarborough Evening News, producing advertisements and drawing a few for clients like the now-defunct Candlelight club, in Huntriss Row. His intricate artwork showed a precision in his line drawing and later as a painter in oils and acrylics.
Rich "Redeye" Hodgson only joined The Mandrakes in 1967 but he saw the band play with The Who at Bridlington. "It was a fantastic gig, packed out. Keith Moon (The Who's legendary drummer) drove off in his huge car afterwards, shouting at the crowd outside Brid Spa. He had a speaker somewhere in the car, with a small amplifier -things like 'See you again, Bridlington' and some unprintable things, too. You wouldn't get a local band getting the chance to support someone like The Who these days."

These days, Jon Conway is one half of the entertainment giants QDOS with his business partner, Nick Thomas, best known as the country's biggest providers of pantomime. Jon's father, John C. Shearme, was manager of Bridlington Spa and booked The Who, Hendrix, The Tremeloes and many other artists. "It was weird," says Jon, "bands in those days would think nothing of driving all over the country to play in venues like the Spa but nowadays it's mainly massive stadiums.
"Dad booked all sorts of artists and knew the business inside out. Brid Spa held more than 2,500 and, standing up, it could accommodate a lot more. He and four other guys were the security for the gig, that's all it took. They dressed in old-fashioned commissionaire's uniforms ... all gold braid and long, red tail coats and matching trousers.
"If things got out of hand, they turned the fire hoses on the crowd to cool them down. You'd get locked up for that these days.
"He loved it, he'd been with Bertram Mills circus and he'd worked as Entertainment Manager for Scarborough Council but he put on all the famous pop acts in the Sixties at Brid."

It was a tight turnaround for The Who, the whole show, including The Mandrakes, taking two and a half hours. They'd been in Morecambe the day before and after a day off, travelled to Bridlington. Coincidentally, England would celebrate World Cup success just a week later.
In another strange echo of today's economic difficulties, three days before the gig just down the coast, Prime Minister Harold Wilson had imposed a freeze on wages, something that didn't please many people on an average salary of £20 and five shillings. The average house cost £3,840, beer was one and ninepence a pint and petrol was five shillings and sevenpence for a gallon (4 litres).

By the time they visited Bridlington, The Who had already had four top 10 hits: I Can't Explain, Anyway Anyhow Anywhere, My Generation and Substitute.
Pete Liley was one of The Mandrakes' two guitarists, along with Rob Southwick, and remembers The Who's leader smashing his guitar onstage. "It was one of Pete Townshend's trademarks. He smashed it till there was just the neck of the guitar left and threw it into the audience. A roadie jumped after it and Robert Palmer asked if he could have it. He was told no, but I spotted a small piece of the guitar they'd missed and it's still in my scrapbook."
Pete also remembers The Who's notorious drummer Keith Moon's antics. "He had a big, red convertible and he had an old-fashioned record player with a big trumpet speaker through which he played God Save The Queen. There were about 20 or 30 people hoping for autographs. You can't imagine that now."
The Mandrakes also supported the late Jimi Hendrix, says Pete, and one of his proudest moments was when the legendary musician borrowed his guitar. "But we played with The Who three times in total."

Mick Stephenson, who also drummed with the band, remembers The Who lead singer Roger Daltrey telling them how good he thought they were. "Keith Moon's 16 drums put my four to shame. He told me the more he had, the more chance he had of hitting them. It was a brilliant gig, all credit to Ron [Gillet] who got us in there."

Brian Cooke, best known for his 1970s album sleeve art and photography, mostly for the legendary Island Records label, took over from Ron Gillet, usually dubbed "Scarborough's oldest teenager" as The Mandrakes' manager.
"I remember them playing in Leeds with The Who," he says, "but I don't have any shots of the Bridlington gig. I missed it as I worked away in Skegness. It wasn't until I returned that Christmas that I started as 'roadie' but soon took over as manager in 1967."
Brian's brother, Mick, was The Mandrakes' drummer. "I believe that the Mandrakes might have actually supported The Who twice in '66 - memory's not as good as it used to be but I do remember using one half of John Entwhistle's 2 x Marshall 100 watt stacks and blowing the amp top.
"He was not amused and had to play with a mere 100 watts instead of 200. This was at the time of the release of My Generation and Roger Daltrey was telling us that Pete wrote the lyric on a train and it was originally supposed to be tongue in cheek!"

Ron Gillet, The Mandrakes original manager, died in 2003 while visiting a friend in Redcar. Sir Jimmy Savile, who knew him well, quipped "I always thought Valley Bridge would collapse before Ron."
Keith Griffin, who played bass with the band, travelled back to Scarborough from Australia for a reunion celebrating Robert Palmer's life at the Spa in 2003, helping to raise £5,000 for St Catherine's Hospice.
If you were at that gig at Bridlington Spa on Saturday July 23 1966 you'd have paid just seven shillings and six pence to get in ! We'd like to hear your memories of that night.

The poster goes under the hammer on Thursday and is expected to realise around £1,500.
(Scarborough Evening news - 23 juin 2010)