Robert Palmer: The Island Years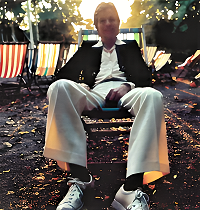 It's immensely egotistical of me, but it's great that finally, a mere decade after I did some work, I can see the results.

In early 2004, following a random discussion about how no one seemed remotely interested in the late Robert Palmer's back catalogue, my good friend (and then head of back catalogue at Universal), Daryl Easlea, comissioned me to trawl through the vaults for rarities and to write the sleeve notes for each of his nine albums for the Island label. A few months on, I'd interviewed various members of Little Feat, Vinegar Joe, Gary Numan Rupert Hine etc, found a heap of rarities and written the nortes, only to find that legal shenanigans (it was still less than a year after RP's death) had poleaxed the project. The rough designs were shelved and we all went back to our days jobs.

Then, earlier this year it appeared that Demon records were interested in licensing the albums from Universal, along with my original notes and most of the extra tracks. Hoopla!

And this week, sure enough, the new albums (packaged together as 'two-fers' - except in the case of Maybe It's Live which gets squeezed in with Secrets and Clues) have appeared. The only original tracklisting changes have been the loss of the Lee Perry-produced demos that RP made at Perry's very own Black Ark studio in Jamaica, which is a shame (as they're so predictably bonkers). But overall this is massively gratifying, not just because all that work wasn't wasted, but because these albums when put together make up Palmer's core work and demonstrate what made him so special.

Often overlooked - either as a musical dilettante or a lightweight pop singer with a deft line in sartorial sleaze - Robert was a man who never betrayed his deepest love: music. With a peripatetic childhood spent in Malta, where he was exposed to the rhythms of the African diaspora, on returning to Yorkshire he never shook off his early influences, along with the notions that not only were all musical forms valid currency, but that there was more to life than the rather earnest blues and hard rock of his contemporaries. No wonder he later became close friends with another hard-to-categorise musical polyglot: Lowell George.

An apprenticeship with Keef Hartley and then Dada (who morphed into Vinegar Joe, where he worked alongside another underrated singer, Elkie Brooks) saw his wonderfully forceful and soul-steeped voice mature until Chris Blackwell, who still was very much in charge of Island, decided to launch him as a solo artist.

The first fruits of this move in 1974 were the expensively recorded Sneakin' Sally Through The Alley, which not only demonstrated how much he'd taken on board Lowell George's Southern-fried funk template (the album features two Lowell numbers) but also came featuring New Orleans' finest band, The Meters, as backing musicians (along with George). It's a solid gold masterpiece which, to this day, mystifies me as to why it failed to make RP a superstar. But luckily for us, in those days labels like Island had faith in their acts and kept Robert working.

His next few albums featured a similar mix of sophisticated funk (backed by the cream of session musicians, along with Little Feat themselves), reggae, calypso and soul ballads. And finally (with 1978's Double Fun) the singer hit pay dirt. Andy Fraser's Every Kind Of People gave RP his first real hit, and from there it was all uphill.

However, anyone expecting Robert to churn out the same radio-friendly soul pop ad nauseum was in for a shock. Following a harder, punkier edge to the following year's Secrets, he embraced nascent electronica, employing Gary Numan as a guest on Clues, which yielded Looking For Clues and Johnny And Mary: two hits that ably demonstrate how musically inquisitive he was. Listening to DAF, appearing (as a percussionist) on Talking Heads' Remain In Light... all this and more signalled a man who, despite a smooth exterior, just cared about satisfying his own restless creative urges.

For me, the most interesting manifestation of this came following the rather sub-standard live/studio hybrid, Maybe It's Live when he teamed up with Rupert Hine to make Pride. Its warmer synth tones combined with pulsing electronica, experiments in proto world music (The Silver Gun) and, again, his beloved calypso add up to a delightful, if underpraised, body of work. Even stranger was the cover...

RP's final Island album, Riptide, was to see his recent work with Duran Duran and Chic's rhythm section (in Power Station) feed directly into his sound. Realising the commercial rewards included in early sampling, gated drums and crunchy metal guitars (and having been a B-lister for over a decade) meant that when mega success came knocking in the form of Addicted To Love, Robert flung the door wide open.

He still left room for a few leftfield tricks, however. His gender reassignment exercise on Jam and Lewis' hit for Cherelle - I Didn't Mean To Turn You On - is a masterstroke, while the title track is an old '20s number by Walter Donaldson.

While most of his post-Island-move-to-EMI workfalls short of earlier stuff, Robert never lost his curiosity. Months before his demise in 2003 I interviewed him in London. He'd just released Drive, his first ever R&B collection. Even at the age of 54 he was still open to new influences (he'd avoided most blues music as a youngster) but could also wax lyrical about the complexity of African and Caribbean rhythms or discuss his constant quest for new material (his son regularly sent him compilation tapes of work he thought he'd find interesting - leading to things such as his wonderful version of Nicolai Dunger's Dr. Zhivago's Train on Drive.

He was a true gentleman, charming, easy-going and left you in no doubt as to where his first passion lay. In music.
Chris Jones (BBC reviewer - 2013)