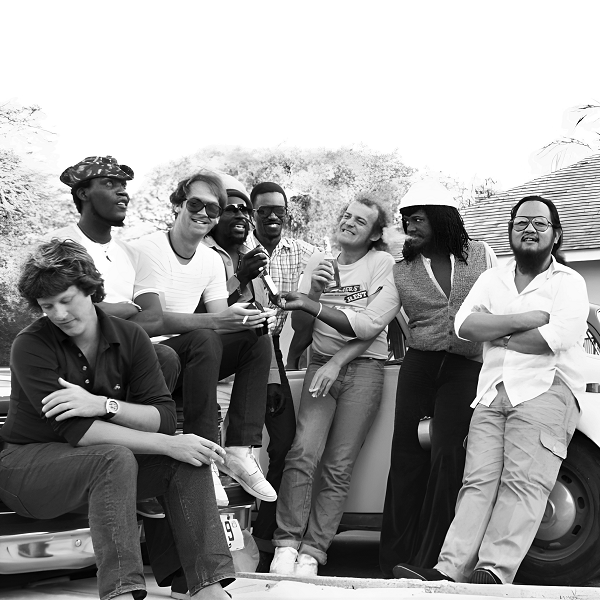 According to Badarou, the sessions had a pitifully slow and chaotic start. "Upon arrival, Barry and I were put into a big house, but there was no one around but us for days—no Grace, no Chris, no Sly, no Robbie. Then they all came up, two by two. Alex Sadkin finally told us that Grace had been somewhere in town; one day, as we were mucking about in the recording area, she finally showed up. A couple of drum sound adjustments later, I could see someone at the console, looking very relaxed, whilst everyone acted very respectfully towards him; Grace just yelled, 'Hi, Chris!' and that's how I knew who that was. But by that time, I was so infuriated by the very relaxed pace of the events that I don't recall having been formally introduced to him."
As would often be the case at Compass Point, spontaneity was a key element of these sessions, which would meld the sensual contours of funk and dub with the occasional antiseptic gloss of disco and the jagged edges of new wave to yield a highly futuristic blend; additionally, Jones' Jamaican heritage helped her bond with the core of the team, while her striking image, which had recently been restructured by art director and paramour, Jean-Paul Goude, was another defining factor of the music made.
"In the studio, there was big posters of her with a shaved head" Sly explains, "so when you're playing, you keep looking at the image; it's like you're making a movie score, looking at part of the picture. As a person, I think she was cool; I don't know if it's because she was almost Jamaican, so she feel very relaxed and comfortable, cause we can relate to her and she can relate to us—there's respect for everybody there."
"Chris make we hear some Grace Jones album" Robbie continues, "show us how she looks, says he wants music made to that image. We go Nassau and started building tracks for her and she wanted us to rehearse before, but we said, 'No man, fuck that! We just run the song.' That's the way we usually work, so the old-fashioned way of rehearsing, that's a joke, because when you rehearse and you get a feel, by the time you come back to the studio, you get a different feel."
"I played acoustic piano on Warm Leatherette and Chris was thrilled, but the whole thing sounded bizarre to me" adds Wally Badarou. "I just didn't get it, and I didn't care much, so concerned was I by the logistics of our accommodations, rather eager to be done with the job and get back home for more serious projects. Only when we did Private Life did I start to realise the potential of what was going on, but did not fully understand, and neither did the rest of the team. Only Chris knew. He used to say repeatedly, 'This is the best band I've ever heard.' But I thought he was just being nice to us."
Thus, on Warm Leatherette and subsequent albums Nightclubbing and Living My Life, the Compass Point All Stars did more than just bring Grace Jones to the top of the charts; indeed, their futuristic fusion changed the course of disco as well as pop music in general, by making the first more inclusive and the latter more adventurous. The twelve-inch version of My Jamaican Guy, taken from the Living My Life sessions, shows off the tightly wound dubwise groove supplied by the All Stars; Sly notes that Grace's vocal pacing mirrors aspects of the Jamaican folk form called mento, while Wally Badarou says his keyboard hook was taken from an older composition put together some years previously.
"The Grace Jones sessions were so enjoyable, partly because I had the band all playing live" Chris Blackwell emphasises, "and I would have three or four musicians all overdubbing at the same time. It was 'lightning in a bottle' and it was then that I thought about them as a house band, like with Stax and Motown."
Meanwhile, after the initial set of sessions that produced Warm Leatherette, quirky new wave act the B-52s came to Compass Point to record their debut album, after Talking Heads and their manager, Gary Kurfirst, recommended the group to Chris Blackwell. Then Aussie rockers ACDC cut Back In Black, hailed by many as one of the greatest hard rock albums of all time, before a fragile and fractious Talking Heads returned to Compass Point in May 1980 to begin working on Remain In Light, which many rate as their finest release. The disorder of these sessions is legendary, with co-producer Brian Eno and lead singer David Byrne initially cold-shouldering each other due to an earlier unspecified falling out while working on My Life In The Bush Of Ghosts in San Francisco; engineer Rhett Davies quit Remain In Light after just three days, leaving Eno, Steven Stanley and hired hand Dave Jerden to keep the mix intact as the band fleshed out abstract rhythms during chaotic jam sessions. The album was later completed at Sigma Sound studio in New York with guitarist Adrian Belew and backing singer Nona Hendryx, pointing the way towards the expanded band that subsequently rocked audiences on tour. Born Under Punches, the driving track that opened this magnificent album, captured the Heads at their most tense and dramatic, with Byrne's eerie lines about the hands of a "government man" being strangely contrasted by an off-kilter chorus of "the heat goes on…" apparently borrowed from the headline of a New York tabloid.
In an era when punk and disco seemed at polar opposites, New York's No Wave movement attempted to blur perceived boundaries between the two styles by drawing from disparate elements to avoid stereotypical characterization, and Compass Point became associated with the movement thanks to Island's links with ZE Records, the pioneering label that became its bulwark. Michael Zilkha, an Oxford-educated publisher whose immense wealth stemmed from the Mothercare retail chain, and his friend, Michel Esteban, owner of Parisian punk shop Harry Cover and founder of the magazine Rock News, formed ZE when Zilkha's future wife, Cristina Monet-Palachi, a Harvard graduate who was then arts critic at the Village Voice, kick-started her singing career by recording a punk-disco satire produced by John Cale; the single caught Chris Blackwell's attention, so he arranged to distribute ZE's releases through Island.
Esteban's girlfriend, Lizzy Mercier Descloux, was another early fuser of punk and disco that was hailed as a Patti Smith protégé when the pair left Paris for New York. After the underground success of her debut, Press Color, Descloux and her backing band reached Compass Point in October 1980 to record the Mambo Nassau album with Steven Stanley and Wally Badarou; like her debut, it drew on a number of genres, including contemporary African music, as made clear by the driving, scat-vocal, dub-funk track, Lady O K'pele, which, like the rest of the album, navigated adventurous, if somewhat hazy, directions.
"It became increasingly interesting as we went into production" says Badarou. "I still can't tell in precise words what it is she or we were looking for, but there was undeniable complicity; I can't speak much about the musical value of the end result, but we enjoyed the process. I guess it had more to do with posture or gesture than musicality; maybe another album would have made things clearer."
Cristina also travelled to Compass Point in the same era, the intention being that her sophomore album would be produced by Robert Palmer, the soul-influenced English rock singer who was often around as he had long been based in one of the properties at the Tip Top apartment complex that was situated in the hillside behind the studio but, for reasons that remain unclear, that particular project was shelved. The demo version of the faux-country lament, You Rented A Space, featuring production and instrumentation by Palmer, is thus a tantalising glimpse of what might have been if the album begun at Compass Point in 1981 had managed to reach full fruition.
Pour lire la suite, cliquez ici