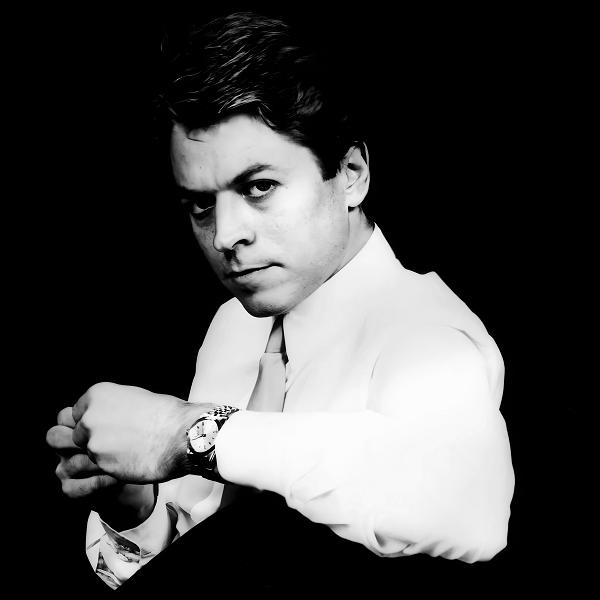 Pat Thomas looks back on the career of one of the finest white soul singers around.
When the great book of musical history comes to be written - and it will be - the Yorkshire town of Batley will be remembered for two things. Firstly, for the now defunct Batley Variety Club - the largest of its kind in England, giving the town its reputation as the Las Vegas of Northern England. Secondly, as the birthplace, on January 19, 1949, of pale-faced soul boy Robert Palmer.
But to say that Robert Palmer, who in the past 10 years has chalked up eight solo albums and a handful of singles of variable quality, is a Yorkshire lad would only be telling part of the story.
His father was a civil servant attached to the Royal Navy and young Robert spent his formative years on the sunny island of Malta. Life was good in those days. The island's diplomats mingled effortlessly with show business personalities at cocktail parties and barbeques. It was at just such a function that Robert was taught to swim by 'Tarzan' Johnny Weismuller.
But the family returned to Batley where, in self defence, Robert quickly traded his naval school accent for the Yorkshire one he's carried with him to this day.
With any other singer you might not feel so tempted to dwell on early childhood all that much. But with Robert Palmer, these early experiences form the basis of the man's character. So many times you will hear him referred to as 'rootless', a man without a home. For years he travelled the world playing, singing, recording and soaking up cultures. Then he discovered the island paradise of Nassau in 1976 and has lived there ever since.
Over the years he's been accused of being the thinking woman's pin-up. A purveyor of easily digested soul for the Habitat set. His fellow musicians admire him. But not just for his music. They admire the way he has rejected all the traditional roles of the popular musician and managed to duck all the machinations of the hit-making process. he has no desire to be the leader of fashion trends. No desire to star in films. No real reverence for the power of the media. And best of all no paranoia about any young buck who might be standing behind him, ready to take his place.
So what is Robert Palmer's story?
His interest in music began at art college where he began singing and playing harmonica in local R&B groups. His career in music began when he joined a semi-professional band called the Mandrakes in 1964. Like most young musicians, joining a band was at first a really good way of getting out of school. He stayed with the band for four years, drawing on the influence of Otis Redding, Marvin Gaye, Aretha Franklin and the then burgeoning UK reggae scene. Still lacking any real commitment, though, he hung onto his job as a graphic designer.
Then in 1968 came the chance to sing with Alan Bown's band. The Alan Bown Set was one of the first groups in th UK to utilise a horn section. Joining the group meant a move to London, so he packed his job in and headed for the bright lights of the South. At the tender age of sixteen he was opening shows for the likes of Jimi Hendrix and the Who.
One year later he moved on again, this time to a group with the unlikely name of Dada. It was with this jazz-funk outfit that Robert first toured the US. But Dada, with Robert Palmer, didn't last long before it went through some personnel changes and became known as Vinegar Joe.
He spent four years with Vinegar Joe, playing rhythm guitar and (looking back it may seem like an odd pairing) sharing lead vocals with Elkie Brooks. Vinegar Joe produced just three albums, Vinegar Joe and Rock 'n' Roll Gypsies in 1972 and Six Star General in 1973, but they were enthusiastic, some say underrated, and of all of Robert's early musical exploits they were the best known.
The break-up of Vinegar Joe and Robert's decision to go solo dove-tailed in 1974. He put together some demos and sent them off to Island Records boss Chris Blackwell. Blackwell jumped on them and within three weeks Robert was on a plane heading for the US to record his first LP. By September Sneakin' Sally Through The Alley was in the shops.
The recording of that first album set a pattern that would continue for the rest of his career and establish him as one of the supreme collaborators of popular music. Recorded in New Orleans and New York, the disc included contributions by the late, great Lowell George and Bill Payne of Little Feat; The Meters, a top New Orleans session band known for their tricky rhythmic turns; Bernard Purdie, top session drummer; and Cornell Dupree.
Though the album failed to chart in the UK it made a considerable impact in the US where FM radio picked it up and played it to death. Knowing a good thing when he saw one, Robert moved to the States and began working on his second LP, Pressure Drop.
Aside from the classic Toots & The Maytals title track, Pressure Drop also featured the much vaunted Give Me An Inch. It was recorded at opposite ends of the country in Los Angeles and Baltimore and once again featured members of Little Feat and the Muscle Shoals Horns - a group of musicians with whom most popular acts of the time were queuing up to work. Still without a UK hit Robert embarked on his first major tour of America.
Just like clockwork, a third LP, Some People Can Do What They Like, appeared in 1976. In the UK this album gained a bit of ground, just scraping into the Top 50. The US continued to respond enthusiastically to the Palmer charm so he toured the country again. Then as if to prove the truism contained in his LP title he pulled up stakes and moved to Nassau. At the age of 27 he'd finally discovered a place he could call home. He still lives there today with his wife and two children.
Though his lifestyle on this sunny island has refined itself over the years, the working pattern of Robert Palmer's life has seen very little change. When he's away from home travelling or touring he accumulates new ideas and information. Back in Nassau, with a home situated close to the prestigious Compass Point studio, he assimilates those ideas and creates.
He can get up in the morning and fish in the sea from his living-room window. He can make music all day long for months on end and then suddenly his muse may leave him and he'll spend his time romping with the kids on the beach or just reading books. Certainly his musical output has slowed up since the move, but the quality of what he eventually does put out remains some consolation.
The next album, Double Fun, came in 1978. Its cover artwork of Robert smiling wryly at two wet bikinis by the poolside was supposed to be a parody of all his other album covers which featured him as the lounge-lizard lusting after some scantily clad girlie. No one got the joke and Double Fun marked the end of the so-called 'sexist' covers which will follow him to his grave.
Musically Double Fun gave him his first UK chart single, Every Kinda People, and a European hit with Best Of Both Worlds. Soon after completing his first European tour he headed back to Nassau to record the next album, Secrets. Secrets charted, just, in the UK and provided him with another mildly successful single Bad Case Of Loving You (Doctor Doctor).
By now you will have noticed something about Robert Palmer's career. Everything is neatly landmarked by the release of each album. He's never been one to seek publicity. There are no scandals and no real fuss save the big noise everybody seems to make about the cut and the cost of his suits. For Robert Palmer the most important part of his career, next to his love of live performance, is what is contained on each 12" piece of plastic. Certainly he's been indulged by Island Records as the release of albums becomes more and more erratic. Chances are, in the record companies' eyes, the respect he claims from the industry makes up in some way for his lack of commercial success.
It was his sixth album, Clues, in 1980 that turned the geographic boundaries of his success on their heads. The inclusion of Chris Frantz of Talking Heads and the unlikely alliance with Gary Numan turned heads in the UK, producing two singles, Johnny & Mary and Looking For Clues. Everybody was asking the same question: How on earth did the Batley soul boy and Hamersmith's synthesiser king ever get together?
The answer lies in Robert's musical friends around the world. Then as now, the only way he gets to hear new music is via friends in far flung corners of the world who make up tapes of whatever's happening and send them on to Robert, wherever he might be.
That's how he came to hear Gary Numan. He was on the road and a tape arrived with no information save the words 'bullshit from afar' written on it. The track was Gary's single Cars and Robert liked it so much that he incorporated it into his live set the next day. And so began a beautiful friendship.
The UK greeted Clues warmly while the Americans didn't quite know what to make of it. Eventually they decided that Robert had gone avant garde and his wide audience narrowed considerably. In Europe the record was considered mainstream and no one so much as batted an eye.
Two more albums followed: Maybe It's Live (1982) and Pride (1983). Robert turned his hand to producing other acts, most notably Desmond Dekker, Peter Baumann and Moon Martin. He had a Top 20 hit with the single Some Guys Have All The Luck (Rod Stewart would take the track back into the charts in 1984) and he toured Europe for a while. Then things seemed to go quiet.
But they didn't really go quiet at all. In July 1983 Robert Palmer joined Duran Duran at their Aston Villa concert for MENCAP. At the time it seemed like nothing more than a strange choice of a support act. Not many of the young Duranies at that football ground could have heard of Robert Palmer. But John Taylor liked Robert, having met him once before at the Rum Runner. Before long, plans were being made for a project outside of Duran Duran that would make another stab at fulfilling John Taylor's original goals for Duran. A group that would combine all the verve and flair of Chic and the raw energy of the Sex Pistols.
It all came together late in 1984 at New York's Power Station recording studios (from which the group took its name). A debut single, Some Like It Hot, stormed up the charts and the album, just released looks likely to do the same.
Palmer is once again in the limelight with his successful collaboration. In London for a lightning visit, he happily took on the whirlwind promotion for the group's music and found himself, as in countless interviews before, denying his so-called 'playboy' image and justifying his taste for expensive suits.
As true as those sides of his character must be, there's something else about Robert Palmer. He insists he believes in the Protestant ethic, that work is the only thing that makes him feel right. To him music is a job. Much ado has been made about his style but a quick glance over the shoulder shows that his style has changed very little over the years while his music has continued to grow - even if the results are often hit and miss.
Undoubtedly he's arrogant - very few people in the music business aren't. It may seem incredible to those of us on this tiny, cold island that he'd never even heard of Wham! until recently. Yet he doesn't seem to have suffered any ill effects from this lack of vital musical information! Like him or not you can't help but admire this man who continues to live his life his way without compromises.
Pat Thomas - The Beat (1985)