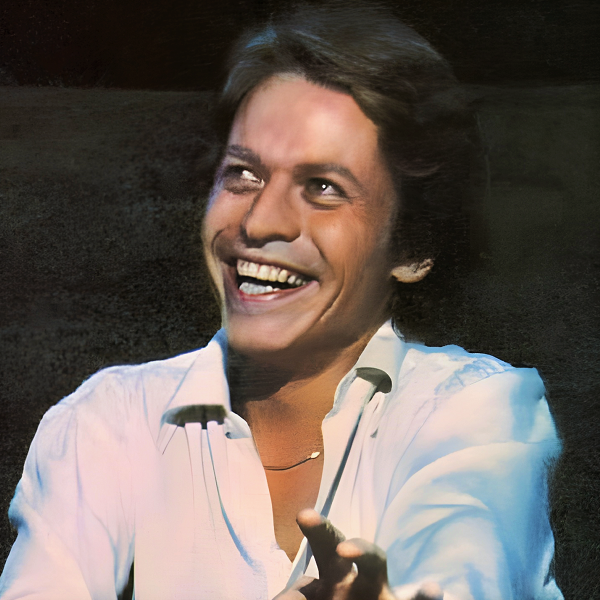 Some People Can Do What They Like is the title of Robert Palmer's new album. The title quite simply explains a good deal about Robert, a musician who's enthusiastic fans dig him because he's doing what he wants to do is just - so good!
"My music is like a disease everyone catches rather than something I have to beat them over the head with."
Occasionally, an artist sums up the effect his music has on the listener perfectly.
Robert specialises in steaming soul funk smoothly sensual charming songs performed with exhilarating precision, feeling and charm.
"I don't want to experiment with the public's time. I want to capture their imagination."
Occasionally, everything about an artist is naturally perfect for just that. Robert's one of the lucky ones.
Starting from the outside and working in, he's a good looker. To be more precise, Robert Palmer has the flashing, healthy, good looks of a matinee idol, a latter-day Rudolf Valentino. But instead of the Desert Sheik's sultry, brooding glamour, insert down-home North of England wit, and a sunny sparkle that's Robert's alone. It's a heady, refreshing blend, and it all comes naturally. Isn't that what they describe as star quality?
So. Looking at the inner man, Robert's cheery urbanity is easy to understand.
His earthy humour is typical Yorkshire. Robert was born in Batley, Yorkshire, moving to sun kissed Malta at an early age, when his father was stationed there in the Services.
Neither Yorkshire nor Malta are famed for being cosmopolitan cultural centres, but in this wonder age of communications the radio had a tremendous influence on young Palmer. Over the airwaves, Robert discovered all manner of black American music, notably soul greats like Otis Redding, Sam Cooke, Bobby Womack and Marvin Gaye, Stevie Wonder and Aretha Franklin. Instantly hooked on the sound that then, as now, rang with true feelings and passion in a world of bubblegum music, Robert doesn't feel that he's a white R'n'B singer exactly, but admits there's an element of truth in the tag.
"I can't put my finger on it," he admitted thoughtfully, "but there's an atmosphere there. Actually, when you talk about black music, you could be talking about anything from Ethiopian folk music to the Spinners. There's a certain scope in black music, because it has the constant energy and enthusiasm whites often don't have. The percentage of stuff in the black area that's been undeniable is always greater.
"That's what I'm after. It's a feeling really. And R'n'B has it where Top 40 generally doesn't. But I also like George Jones, the country singer: that's funky stuff. When I went on my own, soul music never entered my head. I had no doubt about what I wanted, but I attached no particular name to it."
When the Palmers returned to England, their tour of duty up, the family moved to a small English seaside town. It wasn't long before Robert took the route that almost every British rock'n'roller seems to have followed at one time or another, and went to Art school.
Art school in the 60's represented a taste of Bohemian life, and a certain amount of freedom, license to act wild, create, that no other situation of the time could offer. Keith Richards has described in interviews the daily sound of aspiring blues guitarists jamming in the gents. Robert at 15 was already playing in semi-pro bands, aiming at reproducing the authentic guts roots feel of the soul music he'd ardently absorbed.
By the time he was 19, he was working as a full-time graphic designer (hence Robert's unmistakable flair and style) during the day, and playing regular gigs at night.
"I used to have a flat right across the street from my job, so I used to finish work at 5:00, run over across the road, splash water on my face, jump on the bus, go over to a gig, get home at 4:00 in the morning, and up at 8:00 for work... of course, I was a teenager then!", flashing that cheeky grin.
Robert's first real band was called the Mandrakes. They gave him his first experience of being on the road when they toured Scandinavia. One taste was enough. Robert came back to England, gave up his day job, and became an official full-time musician.
In 1969, he joined the Alan Bown Set, a highly respected outfit, with the distinction of being the first British band to have a brass section, as vocalist.
Robert hadn't been long with Alan Bown before he joined / helped form Dada, the avant-garde twelve-piece jazz/rock outfit, which featured a double vocal treat - Robert plus rock wildcat Elkie Brooks. The band captured critical interest, but no more. The band decided to streamline the sound and the visuals at once, by jettisoning the brass and percussion sections, evolving in late 1971 into a 6-piece band, Vinegar Joe.
They proved to be a live attraction, but once again, they never captured their live appeal on record, and they disbanded in '73.
Robert remembers, "I'd been with these people for so long, and there was an interdependence. But when it finally fell apart, it became clear we all felt the same way. I was prepared to go on my own way."
So, Robert retired to a basement flat, where his spent his time toying with the glowing tropical fish tanks that lined the walls, and playing with his drum machine.
"I'd set the drum machine and play a bass riff for hours gone, like meditating on James Brown."
The demos that evolved through those intense, solitary evenings had enough magic to convince Island's Chris Blackwell of Robert's musical authority. In the space of three weeks, our hero found himself in New York's Media Sound Studios, ensconced with musicians that had been his heroes for years - the Meters, Cornell Dupree, Richard Tee, Little Feat's Lowell George, and Traffic's Steve Winwood. Also, a gentleman named Steve Smith, a dashing sandy-haired producer with a soft Southern drawl, fresh from working at Alabama's celebrated Muscle Shoals Studios. The partnership between Steve and Robert proved so stimulating that they're now working as a permanent musical team. Robert's excitement at this sudden switch to artistic freedom glows in his face today.
"I was in heaven working with all those guys who were my heroes for years. When I was a kid you couldn't get the new R'n'B singles, so I'd write away regularly to Atlantic and Stax and get a package every month in the mail - with those musicians on the sessions!
"I'd hit upon a formula that was perfect for me and one they easily understood. Some of the tracks went down in one, two and three takes, in New York and at Allen Toussaint's Sea-Saint Studios in New Orleans, where I cut the tracks with the Meters and Lowell George.
"You see, after I left Vinegar Joe, I knew exactly what I wanted to do. It was only three weeks after I left the band that Steve and I went into the studios for Sneakin' Sally Through The Alley, and there was no indecision at all. We knew exactly what the end product was going to be like in terms of atmosphere. We got it. And it's the same now, I know what it is that I'm doing. I know what I want, and I know where it can go. So I just... do it!
"When I listen to Sneakin Sally Through The Alley, I think: great! It's like listening to a diary of some people that I met in a place at a time, having real good fun, you know, really gettin' on well, and expressing it by instrument. It's like a scrapbook."
Sneakin' Sally's like that. It's the kind of album that sticks in your heart as well as your memory bank. But even better was to come, with the release of Robert's second solo album, Pressure Drop. Again, the same attention to detail's evident in the cover artwork, as memorable and witty as the neon-lit tunnel chase that made Sally stand out in the album racks. A perfectly-hewn nude woman, silhouetted in the window of a classically super-bland, modern motel room, with Robert pensively debonair, allured every prospective buyer. The music was as stylish as the presentation.
Lowell George and other Little Feat members, the Meters, Motown bassist James Jamerson, Bernard Purdie and other top session heavies played with Robert, but Robert's personality rides easily over the super-professional funk of the backing tracks, his voice rocking sweetly, surging in a powerful wave through songs of his own composition that were, simply, instant classics. Songs like Give Me An Inch demonstrated that Robert had achieved the synthesis of maturity, raw emotion, and sensuality that he'd admired in those old Stax, Atlantic and Motown singles.
"You employ help to make it work, and within a bunch of men that you pick to make the music work, you have to kind of expose this - romanticism. And I like to try and be a little silly, 'cause I know that my own criteria are a little dry. I express myself too abstractly, but I can't help it."
Pressure Drop's swirling textures and silken melodies prove that Robert's self awareness has bypassed any possibility of sterility. It's all lush, biting funk grooves, calculated to make evry blood vessel and bone dance to the rhythm. Music to surrender to. It's the infectious disease Robert talked about earlier on, and it really is irresistible.
An American tour followed, with Robert reaping phenomenal reactions at even the most jaded U.S. venues. His authentic soulfulness, undeniable on-stage charm and super-tasty band won over press and public alike. Robert commented, "At one time, I would have time on my hands and I tended to waste it. Now I haven't got time on my hands, and i know exactly how not to waste it."
The reason being simply that Palmer was aware that he was entering a new and highly sought-after professional phase - stardom plus credibility.
His constant emphasis that, "I enjoy singing and I'm not going to compromise that. It's a freedom as well as a job," borne out by his determination to play only where, when, and with whom he liked, came through in the very definite personality that strikes you on record, as well as live.
Robert's positive determined attitudes have led to his third solo album, Some People Can Do What They Like. The album leaves you in no doubt that the title refers to himself, the golden boy laughing on the moonlit sleeve.
"It took two months, 12 hours a day, and it's great!" Robert exults. Once again, Robert's joined by Little Feat ("they're really the only rock'n'roll group there is, as far as I'm concerned") and Steve Smith produces.
The songs on the album are vintage Palmer soulful, melodic rockers, so catchy that you're humming them after one hearing, and so sophisticated that every time you hear them, you discover some new delight.
There's an exuberant asurance about Some People Can Do What They Like. Each track stings with conviction; Robert's a perfectionist, and this time it's obvious that he's got the album just the way he wants it. "I've got some amazing musicians," he says, glowing with achievement at the new line-up he's handpicked from all over America to play on the album.
"Everything's so direct. I just don't waste time these days, and it's so good. It's all working out just as I wanted, because I love music and I don't ever want to get stale with it. And I still feel like I've only just begun. This album is a beginning, and the next album will be another beginning!"
Some people really can do what they like. Because people like what they do. And that includes you.
Official advertisement for the LP Some People Can Do What They Like (Island - 1976)