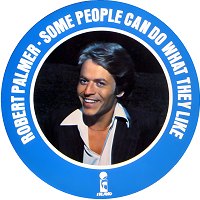 Bright lights, big city... It's a reception in honour of the Staple Singers and the Meters at a club down in Greenwich Village, prior to their Bottom Line gig. In attendance: Robert Palmer, and yours truly en route to catch a plane home from Jamaica.
Earlier that afternoon, I'd listened to some cuts off Robert's new album, Some People Can Do What They Like (just zonking into the LP chart at 47) in Island's offices. I'd been impressed, but not surprised. R. Palmer, Esq., is a lot more than a pretty face.
As a purveyor, or should I say conveyor, of blue-eyed soul/funk, his only rival is Hall and Oates. All these gentlemen win out because they add to the genre they've chosen to work in, as opposed to merely re-cycling licks laid down by session musicians in Memphis or L.A.
"I've been in the same direction since I was 16, but as I learn more about it, I learn how to present it more directly – in a more direct direction!"
Robert, dashing as ever in immaculately-cut grey suit and exquisite white silk shirt, is full of beans. The classic rakish grin is very much in evidence.
"I can waste less words now, people understand me more quickly. It just hits quicker.
"The enthusiasm I'm getting is matching my enthusiasm for the projects, instead of having to fire a situation to get what I want, it's coming right at me..."
He's talking about America. Although Robert has been a critical wow in this country from the start of his solo career, when he recorded the enjoyable Sneakin' Sally Through The Alley after his departure from Vinegar Joe, he has only just started to penetrate the hearts and, more important, the record collections of the great British record-purchasing public.
In fact, England hasn't seen Robert onstage since those days in Vinegar Joe. Any plans for the home turf?
"That's touchy."
I had a feeling it was. That's why I asked.
Robert ponders, then lays it on the line.
"Basically, why the hell should I tour in England? While I'm here I can make a record, feedback off this energy – (gesturing wide at the fabled New York crazies cavorting around us) – organise a tour, travel, do gigs, and look at my career and my music as separate entities, try and balance them both. I can learn about both sides.
"I can pick and choose. I'm not manouevred by any situation. I don't need that. I can go to England and play the Talk Of The Town, do Top Of The Pops and get out of there."
Harsh words, eh? But it's the same old song; the prophet, or in this case, musician, is without honour in his own country. And after a few years of being effectively ignored, it's not surprising that Robert should prefer to concentrate his energies in more receptively fertile pastures.
"I don't get involved with situations that make me feel peculiar because of the circumstances. It really is nice these days..."
If we were in the States, we'd be able to see Robert resplendent with a whole new line-up, a 10-piece band with three singers. For most of us, that's not to be. But we can and should listen to the record.
"It took two weeks to record, 12 hours a day. No strings, no horns, part of the band that I used on my last tour here, half of Little Feat, and various assorted drummers and percussionists. Lots of voices, mostly mine. And a lot of Little Feat doing a kind of chant things.
"They're wonderful fellas – I don't mean to be facetious, but it's got to the point where my relationship with them isn't like someone that just works on a record. (Little Feat have played on all Robert's albums) I like to advertise them because I think they're getting short-changed. They're still only popular within the industry...
"The single? It's Man Smart, Woman Smarter, a traditional calypso thing from way back, Harry Belafonte recorded it 15 years ago. But the way I've done it, it's more like second-line New Orleans. I was in New Orleans for a week and did it with the Meters."
Robert certainly can pick his session sidemen, sho' nuff...So what else is new before Mavis Staples lures you away (not that I blame him, she could lure me away anytime).
"Well...I've bought a house in Nassau. I'm off there in a couple of days. It's the first place I've had to live since last August when I left England. I wasn't staying anywhere more than a month, and it was beginning to get to me, having nowhere to hang your toothbrush, y'know. It's right by the sea, I can go and check out the tropical fish.
"And – this new album is a killer." Robert's positively ecstatic. "It really is. It's nice because I don't need to feel awkward when people come up to me and say they really like my stuff. I can say, thank you very much, that's what I do and I do it to the best of my ability. I like it too."

Vivien Goldman (Sounds - Novembre 1976)