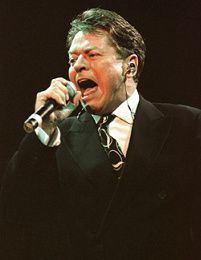 A performer of elegance and taste, Robert Palmer made R&B-imbued pop/rock records that at their best were, as his 1988 smash expressed it, simply irresistible.
Palmer, 54, who died Friday in Paris of a heart attack, reached his career peak in the mid-'80s with 1986's No. 1 hit Addicted To Love, accompanied by a then-omnipresent video depicting the suave, besuited singer rocking out as blank-faced supermodels mimed behind him.
It's unfortunate in some ways that this gifted and versatile artist will be best remembered for fronting a non-performing group of haughty hotties. Certainly it was a memorable media moment that vividly defined superficial '80s glitz, and it led to Palmer's only No. 1 hit and a commercial heyday that lasted for five years.
But the slick image, which he had exploited as far back as his first solo album, 1975's Sneakin' Sally Through the Alley, tended to obscure Palmer's abundant talent and taste.
The British-born singer achieved little success with late-'60s progressive soul ventures Mandrake Paddle Steamer, the Alan Bown Set, Vinegar Joe and Dada. But after going solo, he consistently attracted top musicians and producers: On Alley, he was backed by legendary New Orleans band The Meters (later to evolve into the Neville Brothers). On follow-up Pressure Drop, he worked with funk-rockers Little Feat.
In the '80s, he collaborated with Chris Frantz of Talking Heads and Cars hitmaker Gary Numan. In 1985 he famously teamed with Duran Duran's John Taylor and Andy Taylor and Chic's Tony Thompson to form Power Station, whose Some Like It Hot was a rock precursor to Addicted To Love.
Palmer wrote Addicted and the No. 2 Simply Irresistible, as well as the brooding, overlooked 1980 synth-pop single Johnny And Mary. But from the earliest days of his career, he displayed a knack for uncovering superb material to cover: Vinegar Joe performed the obscure, hypnotic Hearts & Flowers folk-rocker Rock 'n' Roll Gypsies, and the title songs of Palmer's first two solo albums were by New Orleans production wizard Allen Toussaint and reggae legends Toots & The Maytals.
Later he had hits with Moon Martin's Bad Case Of Loving You, Todd Rundgren's Can We Still Be Friends, The System's R&B hit You Are In My System, Cherrelle's smash I Didn't Mean To Turn You On and the Gap Band's sublime smooth-funker Early In The Morning.
In the '90s, Palmer's hitmaking days drew to a close, but he was able to indulge his taste for pop standards with the 1992 album Ridin' High and his lifelong love of R&B with 1999's Rhythm & Blues. His most recent album, Drive, released in May, emphasized the blues, but with typically quirky Palmer eclecticism: It encompasses the classic slow-blues plaint I Need Your Love So Bad (popularized by Little Willie John and Fleetwood Mac, among others) and ZZ Top's TV Dinners.

Ken Barnes (USA Today - 2003)