The Robert Palmer Collection (2012)
Publié le 22 Juillet 2011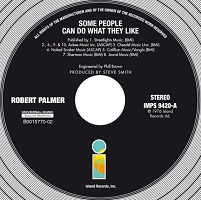 STRICTLY LIMITED COLLECTOR'S EDITION
Paper Sleeve CD Deluxe Vinyl replicas
Réédition de qualité à l'identique en format CD (13,5 x 13,5 cm) du support 33T original: pochette simple en carton épais, album simple sous pochette, étiquette et CD noir donnant l'impression de retrouver le vinyle d'origine. Tout est restitué avec minutie. Le son est remasterisé en haute définition 96 Khz / 24-BIT.
High quality reissued compact-discs which reproduce meticulously all the components of the original LPs and are exact replicas in compact-disc size (5.3 x 5.3 inches), with authentic single cardboard jackets and paper sleeves, black finish CD complete with the original label to give the look and feel of the original record album. The music is encoded using state of the art, high definition remastering in 96 Khz / 24-BIT audio.
Some People Can Do What They Like (1976)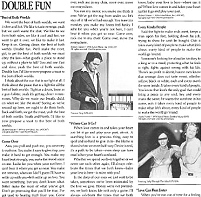 Le troisième album de Robert Palmer, sorti en 1976, met en avant les instincts romantiques du chanteur Soul. La photo de la pochette montre Robert Palmer jouant au strip poker avec Denise Michele, modèle pour le fameux magazine Playboy.
Released in 1976, Robert Palmer's third solo album showcases the romantic instincts of this blue-eyed Soul singer. The album's front and back cover feature risqué scenes from a game of strip poker Palmer plays with Playboy model, Denise Michele.
Double Fun (1978)
A l'instar du visage souriant sur la pochette et du titre de l'album, Double Fun de Robert Palmer reflète le style de vie caribéen tant apprécié par l'artiste. Cette ambiance décontractée peut se ressentir à travers tout l'album, et particulièrement sur le hit Every Kinda People.
The cheerful title of Palmer's Double Fun reflects the laid-back, Caribbean lifestyle that the artist favored, as does his smiling face on the cover. The happy mood carries through in the music, as in the breezy hit Every Kinda People.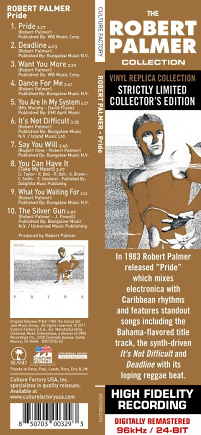 Secrets (1979)
Enregistré au Bahamas en 1979, Secrets de Robert Palmer est très fortement influencé par les rythmes et les orchestrations locales. Cet album reflète également l'intérêt du musicien pour le Funk, la Soul, et est teinté de guitares Rock comme sur le titre What's It Take.
Recorded in the Bahamas in 1979, Robert Palmer's Secrets is infused with the influence of island rhythms and instrumentation but it also reflects Palmer's interest in Funk and Soul and is tinged with Rock guitars, like in the catchy What's It Take.
Clues (1980)
L'album Clues, sorti en 1980, incorpore des influences Rock et New Wave à travers une orchestration centrée sur les guitares et synthétiseurs. Looking For Clues et Johnny And Mary, les deux simples de l'album, permirent au chanteur de s'imposer comme un compositeur à succès.
Palmer's 1980 outing Clues reflects his Rock and New Wave tendencies, with rippling synthesizers and driving guitars. Two popular singles from the album, Looking For Clues and Johnny And Mary, helped establish the singer as a significant hitmaker.
Pride (1983)
En 1983, Robert Palmer sort Pride, album qui mélange la musique électronique aux rythmes caribéens et inclut des titres classiques comme Pride, It's Not Difficult et Deadline.
In 1983, Robert Palmer released Pride which mixes electronica with Caribbean rhythms and features standout songs, including the Bahama-flavored title track, the synth-driven It's Not Difficult and Deadline with its loping reggae beat.
Disponible le 23 janvier 2012 / Available on January 23, 2012
Communiqué de presse Culture Factory USA / Universal