Sneakin' Sally + Riptide (2013)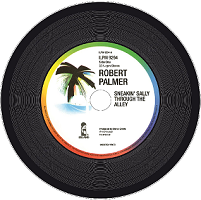 STRICTLY LIMITED COLLECTOR'S EDITION
Paper Sleeve CD Deluxe Vinyl replicas
Réédition de qualité à l'identique en format CD (13,5 x 13,5 cm) du support 33T original: pochette simple en carton épais, album simple sous pochette, étiquette et CD noir donnant l'impression de retrouver le vinyle d'origine. Tout est restitué avec minutie. Le son est remasterisé en haute définition 96 Khz / 24-BIT.
High quality reissued compact-discs which reproduce meticulously all the components of the original LPs and are exact replicas in compact-disc size (5.3 x 5.3 inches), with authentic single cardboard jackets and paper sleeves, black finish CD complete with the original label to give the look and feel of the original record album. The music is encoded using state of the art, high definition remastering in 96 Khz / 24-BIT audio.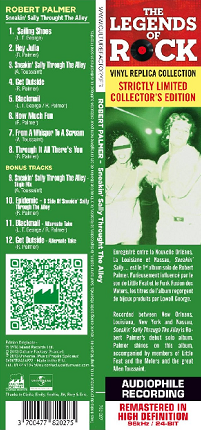 Sneakin' Sally Through The Alley (1974)
Enregistré entre la Nouvelle Orléans, La Louisiane et Nassau, Sneakin' Sally est le 1er album solo de Robert Palmer. Furieusement influencé par le son de Little Feat et le Funk Fusion des Meters, les titres de l'album regorgent de bijoux produits par Lowell George.
Recorded between New Orleans, Louisiana, New York and Nassau, Sneakin' Sally Through The Alley is Robert Palmer's debut solo album. Palmer shines on this album, accompanied by members of Little Feat and the Meters and the great Allen Toussaint.
Morceaux :
1. Sailin' Shoes
2. Hey Julia
3. Sneakin' Sally Through The Alley
4. Get Outside
5. Blackmail
6. How Much Fun
7. From A Whisper To A Scream
8. Through It All There's You
9. Sneakin' Sally Through The Alley (single mix - bonus)
10. Epidemic (bonus)
11. Blackmail (alternate take - bonus)
12. Get Outside (alternate take - bonus)

Riptide (1985)
8ème album solo de Robert Palmer et produit par Bernard Edwards, Riptide est dans la lignée du 1er album de Power Station le "supergroupe" qu'il a créé avec Tony Thompson (Chic), John & Andy Taylor (Duran Duran). Gros succès un peu partout dans le monde, le single Addicted To Love fut N°1 aux Etats-Unis.
Robert Palmer's eighth solo studio album, Riptide, sounds like the first album by Power Station, the supergroup he founded with members of Chic and Duran Duran. Riptide charted well worldwide, helped by Addicted To Love which reached #1 in the US.
Pas de titres bonus / No bonus tracks
Disponible le 15 avril 2013 (France) / Available on May 21, 2013 (US)
Communiqué de presse Culture Factory USA / Universal