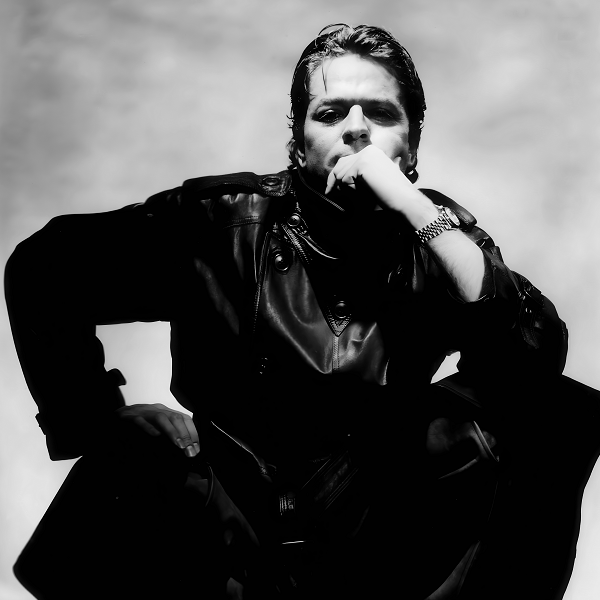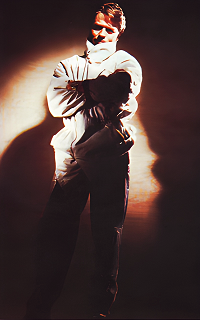 An explanation first of all.
The title of this article is the title of a track from Robert Palmer's 1980 album Clues. Extracted like a plum from a rich but complex pudding, it became a massive hit tune throughout Europe and America. Pulled by the delighted publishers, Island Records, from the same source, another song, Johnny & Mary, achieved even more emphatic success on the airwaves and over the singles counters.
Whatever it means to Island, however, this doesn't appear to be too important to Palmer. He has made equivalent popular impacts before and since in a seven year journey to the top of serious critical esteem. Millions of copies of his seven albums so far have been sold, and continue to sell, to people who think as well as listen. He is a sell-out too, with the live audiences he values even more, at showcase venues on both sides of the Atlantic during the intensive tours he undertakes for ten or twelve weeks of every year. He makes enough money to permit or compel him to live in the Bahamas.
But his obsession, far too dark a word for what seems actually a form of hedonism, is with the doing of the work rather than with the fielding of bouquets after the tape has stopped rolling or the auditorium curtain has dipped.
"You attempt to get something right for yourself. When it's finished you put a dot on the end of it. If the only feedback is some review that says 'it's fabulous' or 'it stincks', it doesn't make any sense to you either way. But if you play in front of a live audience, they're not going to pretend. You can feel if you're going in the right direction."
His offstage involvement with the difficult process of putting together the various elements that make a piece of music is such that he is prepared to drop out of sight for months at a time, like the unseen Redford of Ordinary People, producing other artists's albums with the same joyous inventiveness but analytical command of techniques and technology that he brings to his own.
Notably, for Desmond Dekker, Peter Baumann and Moon Martin. Grabbing a breath of night air during that last assignment, he moonlighted a recording of his own composition Some Guys Have All The Luck.
However, this wasn't truancy so much as the working out of an idea sparked by the Martin session. And the record's happy showing in the US, UK and European singles charts was in the nature of a bonus.
Seen in sunlight now, on the tablecloth sized patio of the London house of Ellie Angel (not another singer, in spite of her name, but a golden-haired and ra ra skirted girl deploying a Nikon in parallel with Claude's on behalf of a Sunday colour magazine) Palmer baffles one's expectations by having a meticulously trimmed full set beard and wearing a formal dark coat, whiter than white shirt and plain dark blue tie.
The clothes are his restrained choice from a BMW-load of peacock finery ferried for the occasion from a Hilversum boutique.
Palmer is staggeringly couth. Later, in the country, his own casual clothes will be revealed as well right of centre. Slacks with creases. Sports shirt with collars. Subdued colours. Polished shoes instead of the Dunlop or Adidas everyone around him is wearing. Asked to don jeans to blend a little more with the bucolic setting, he replies tersely that he never uses them.
"I've been letting myself go lately. You should have seen me. I had hair down to here and a great big beard. I was nearly a hippie. I thought I'd just try the sensation, but it got on my nerves."
On this first London meeting one notes hair now clipped short of both collar and ears. The whites of his eyes are as dazzling as his shirt. And, in his monochromatic outfit, he looks less like a hippy than like a submarine commander intent on some particularly noble and probably decisive mission.
It's an amusing impression, but a real one. And a partial explanation occurs on our way back through the house. The walls are pleasingly decorated by rather good watercolours, minor originals in oils and solarised line treatments of colours photographs; Ellie Angel's own work and that of friends.
She and Palmer note in passing that they each have an art school background. But different schools and with different results. Palmer says his taught him little except the dogma necessary for passing exams (though he subsequently earned a brief living as a graphic designer before joining first Alan Bown's rock group and then Dada, the band not the nihilistic art movement).
His real education happened at a British Naval School in Malta, where his father radar-tracked foreign vessels from underground while a four month to twelve year old Robert picked up an idiosynchratic set of values topside.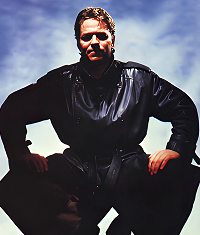 Later, his extramural studies included tutelage by everyone from Ella to Elvis via his father's open reel tape recorder.
Musically, both the official and unofficial components of that early training show, Palmer is what might be called a disciplined eclectic. He experiments compulsively and won't tread in his own footsteps, even if that's the conventional pop musician's route to the spot where the pot of gold is buried. Typically of Palmer, each new comparison, phrasing, lyric and track is atypical of Palmer. Consequently, each requires an aural double-take on the part of his admirers before they can relax, enjoy and resolve to buy.
Yet the apparent tangents, increasingly adventurous with successive albums, add up, when one looks back at the wake, to a controlled and consistent course of exploration.
"I keep bumping into musicians who don't like music. They just like this music or that music. There are all these fashions going on pushed forward by the media or suppressed by them, mainstream or underground. The theme of Style Kills, a track I made a while ago, was anger. Not anger at anyone. Frustration anger. About the sterility of repetitive style in music. Style in thinking. Style in life. Making the record was uncomfortable. I got to the point where it was killing me. And I thought, if I could just push this a bit further, it could be even worse. Even better. But I couldn't."
Palmer is now standing in an orchard in Buckinghamshire, a quarter of a country mile from the extraordinarily located recording facility where he has been working for the past week.
Around him, black faced black eared and all beige sheep in an unannoying mixture of styles either chomp grass or bleat warnings, according to their several natures.
Yellow Kodak packs fall like confetti back into the gadget bag. The shutter of the metaphorical camera also clicks. But the film advance lock is on and the images are multiple superimpositions. Robert Palmer at home in a terraced house on the beach, not the expected mansion, in Nassau, poised for action between his two main audiences, close to where Columbus from Europe first made landfall in the Americas. And poised to reach new audiences live, half a hemisphere away in the Far East and Australia.
Robert Palmer three months ago with the first car he has ever owned. Unspecified as a Ferrari or a Deux Chevaux or something in-between because it isn't important enough for him even to have learned to drive yet.
Palmer now relaxed under the lens, but occupying what would otherwise be dead time by noting cartridge cases in the grass and moss on the leeward side of a tree, enthusing about the colossal professionalism and attention to detail of Ridley Scott's conception of near-future Los Angeles in the film Blade Runner. Deploring the archaic survival of arranged marriages amongst the higher castes in Germany.
Palmer back in the paved courtyard that was once a farmyard and has given its name to a space-age recording studio housed in a rose red 18th century barn in the still green late Summer countryside. Declining amicably to let his own marriage be used as interview currency, but unable to conceal the pleasure he takes in it.
His wife Sue is an independently successful painter and textile designer. Much of her work is for the double Royal warrant holding fabric house of Warner in London, to whom she airmails designs that seem at first glance to be traditional country house chintzes, but which reveal themselves upon examination to be composed from coral reefs or deap sea creatures or, thought-provokingly, from computer chips.
She had dodged M's columns on this afternoon to catch up with events at the Victoria & Albert and other museums 23 miles down the road in London. But their children, Jim and Jane, 2 and 4, were in evidence, happily distancing themselves from the boring proceedings, hosted by a middle-aged resident dog and using the farm paddock as an adventure playground. For them, this has been a holiday week in an excitingly alien locale, and their entertainments have included a Just Williamish tree house to be independent in, games machines in the studio annexe to be lifted up to, coots to alarm from the surface of the erstwhile duck pond and a gaggle of old cars, apparently awaiting restoration, to hold static races in, led by elegant if mouldering black and white Riley RMS saloon.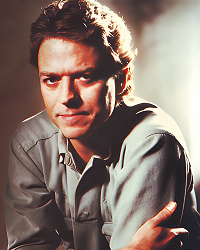 Unpresent here, but sensed as part of a solid and warm background, Palmer's parents still live in Yorkshire, where he was born at about the same time the Riley was an Earl's Court star.
"It's over two years since I've done anything for myself, so I'm obviously very excited by this project. Very full up with it. When you're producing someone else, you're forever pushing the circumstances to keep the thing exciting for them. Now it's all happening for me. It's a delight."
This place is called the Farmyard Recording studio, but it comprises rather more than just the yard. Through the windows of the 200 year-old brick and tile farmhouse where Dirk Bogarde once lived and found the fortitude to jettison a career as a film star and embark on the difficult task of being the very serious actor of Death In Venice and The Night Porter, gold discs may now be glimpsed glinting.
The one time byres and linhays that cloister the yard have become guest cottages for visiting artists. And what still looks like a Cobbett-era barn from outside re-evokes the nuclear submarine image from within.
Palmer is swivel-seated at the central control point (appropriately called a Trident desk) of a half million dollar complex of high tech hardware. Myriad soft and hard touch buttons, rocker switches and slide controls are at his fingertips. A serpents nest writhe of multicoloured cables and jacks is within his peripheral vision. The brushed silver faces, flickering needles and glowing red and green eyes of a ceiling-hung bank of analogue time processors, graphic equalisers, expander synthesisers, real time spectrum analysers, keepexes, simulators, emulators and other arcane electronic magic boxes is at head-up display level in front of him. There is the pervasive drone of power on standby. Low, localised lighting. An echoless ambience.
No periscope. Instead, a full-ahead view through the now empty performing aera of the studio. Above us, not the waves. But around us soon the sound waves.
"You can have three different people playing a piece of music and they all must be thinking entirely different things. You know the old trompe l'oeil trick of 'is it two silhouettes of faces or is it candlesticks?' I've tried to use that to advantage musically. I've given one drummer one set of musical information and another a totally different set for the same piece. The only thing they have in common is hearing each other drumming. It could sound like someone knocking something over a garage. Instead, something occurs, a syncopation that makes the music quite other and bigger than anything any of us is doing or thinking personally."
Beat after overwhelming beat of insistently accumulating rhythm rolls in over and under us, vibrating up through our shoes, crashing softly and less softly from all sides.
The 24-tracked raw material for Palmer's new album Pride, scheduled for release next month. Each piece distilled from maybe a hundred or a thousand ideas captured on tape during habitual every-morning work (and therapy) sessions at home in Nassau, a place he finds stimulating precisely because there is nothing to do except watch the sea unless you make something to do by working.
Rupert Hine, who created and owns the Farmyard, had arrived without notice or introduction three weeks before in the Bahamas and begun work, without explanation, beside Palmer on the projected album.
Kidnapping Palmer after 14 day's hard work, complete with family and manager Dave Harper, to Buckinghamshire, he had put the astonishing peace and the astounding technological resources of the place at their disposal.
A symbiotic relationship had ensued, in which Hine worked with Palmer on Pride and Palmer went on to work with Hine on his own current project.
No one is talking or, it seems, thinking about who will be paying whom or how the credits will fall at the end of all this, although the Farmyard is a for-hire commercial enterprise (Chris de Burgh was last week's client, China Poppy next week's, Garry Tibbs the week's after that).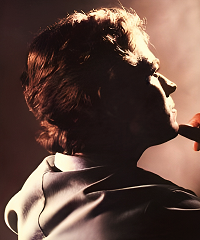 Perhaps there is so much money floating around that these details don't have to be discussed. More likely, there is a kind of creative communism at work in the pop world that would have enraged Senator McCarthy and certainly astonishes outsiders.
Hine is a slight fair haired figure whom later independent enquiries reveal to be a giant in the popular music world whose past successes as a performer are now vastly over-shadowed by his present status as a music innovator. His contribution to the music of Pride has now terminated and to its multi-layered complexity, one instrument remains to be added: the equally multi-layered and complex Robert Palmer voice.
"There's this big thing about national pride at the moment. It's like the hoola hoop or jogging. Being proud of this. Proud of that. People seem to have forgotten it's the first deadly sin."
Palmer will be singing lyrics that perhaps contain gentle ironies but no dark images. If they reach out to brush the edge of bitterness here and there, it will be from the safe ground of his own in-built happiness. There will be no social messages. Whatever the listener takes out of the experience will be his or her own affair.
But since he is poking good natured fun at the phenomenon of pride, it would be amusing to find that he is proud of the new record and the breakthrough in musical technique he believes it represents.
However, delight and wonderment are the only emotions on display. He hands out quiet verbal bouquets in all directions. To the marvellous tranquility of the rural setting. To the inspiration of ethnic music from instruments such as the tiny wood and iron Kalimba finger pianos that he mixed onto 24-track from Zambian sources. To a thesaurus which furnished subtler-than-English idiomatic French definitions of pride. To the input of two session musicians of contrasting and competing styles who had never met before this assignment but who instinctively made musical opportunities for one another.
Most of all to a miraculous micro-processor-based machine called a Digital Reverberation Unit, developed by three redundant aerospace scientists and interfaced by Hine with the rest of the recording technology in a new and organically creative way that is quite beyond the comprehension of this article's metaphorical camera.
"It it sounds electronic, you don't know how to use the machine. You've only read Page One about how to turn it on and make it play a trick."
Palmer, whom the record company call the seminal purveyor of musical high tech, has used the device to cheat time by spacing out the components of his melodies and thus intensify their effect. He has programmed real sounds, such as ocean waves or water falling or the impact of an axe on wood, through it and subliminally into the music of live performers. He has raised ghosts from the Glenn Miller days with evocations of the big band sound.
In short, he has had an electronic ball and will return to Nassau in a relaxed and consciousness-expanded state.
He counters the amateurs fear that all of this may be moving away from real music by saying that it is, in fact, more emotionally elevating and catalytic to the imagination than more interpretative brilliance on conventional instruments can ever be.
He doesn't see anything less creative or more academic in floppy discs and microchips than he does in strings stretched across pieces of wooden board or tubes people blow down.
The camera's last view of him is against the backdrop of this curious place where the fabric of a group of old farm buildings has accepted the fabric of new technology. It lends credence to what he's saying.
"It's too vain to believe you're communicating something specific. If I'm playing to 5,000 seaters, I assume it's 5,000 different sets of ears. Hopefully, there's enough room in what I'm doing to communicate."
Ken Short and Peter McAulay (Pride Tour Programme - 1983)