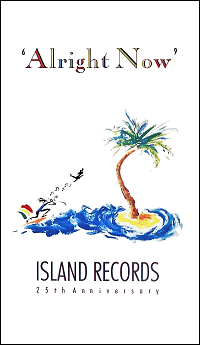 Titre : Alright Now: Island Records 25th Anniversary
Date de publication : 1988
Label : Island Visual Arts
Format : VHS
Clips:
1. Millie Small: My Boy Lollipop (clip)
2. Robert Palmer: Johnny And Mary (live)
3. Robert Palmer: Addicted To Love (live)
4. Joe Cocker: Sweet Little Woman (live)
5. Julian Cope: World Shut Your Mouth (live)
6. Aswad: Bubbling (live)
7. U2: Where The Streets Have No Name (clip)
8. Mica Paris: My One Temptation (clip)
9. Paul Rodgers & Andy Summers: Soon I Will Be Gone (live)
10. Sly & Robbie: Fire (live)
11. Aswad: Don't Turn Around (clip)
12. Cat Stevens: Father And Son (clip)
13. John Martyn: Patterns In the Rain (live)
14. Eric Clapton: I Shot The Sheriff (live)
15. Tom Waits: Downtown Train (clip)
16. Grace Jones: Demolition Man (clip)
17. Buckwheat Zydeco: Ma 'Tit Fille (live)
18. Bob Marley: No Woman No Cry (clip)
Emission diffusée en 1987 pour fêter les 25 ans d'existence d'Island Records, à l'aide de clips vidéo d'époque mais aussi de performances live d'artistes présents ou passés du célèbre label discographique.