80s rock icon dies aged 54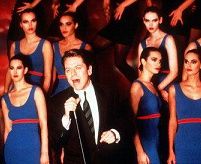 British rock star Robert Palmer died yesterday of a heart attack at the age of 54.
The Grammy-winning artist, who had his heyday in the 1980s with hits like Addicted To Love, was in Paris when he suffered the attack in the early hours of the morning, his manager, Mick Cater, said.
He was on a short holiday with his American partner, Mary Ambrose, after recording a television interview in London. The couple had stopped off on their way home to Lugano in Switzerland where Palmer had lived for 16 years.
Emergency services were called to the luxury Le Warwick hotel in Rue de Berri, off the Champs-Elysées, early on Friday but Palmer was already dead, a spokeswoman for the Paris public prosecutor's office confirmed.
She said that the prosecutor had ordered a postmortem examination as part of a standard inquiry and the death was not being treated as suspicious.
Friends and colleagues in the music industry expressed their shock and sadness at the loss of a man noted for his distinctive gravelly vocals and sharp dress sense.
Duran Duran members John Taylor and Andy Taylor, who formed a band called The Power Station with Palmer in 1985, said they were devastated to hear of his death.
"He was a very dear friend and a great artist. This is a tragic loss to the British music industry." They had last seen him in July in Japan when Palmer had been promoting his latest album, Drive.
A statement from his record label, Universal, said: "Everyone is deeply shocked and saddened at the terrible news."
UB40, who collaborated with Palmer in 1990 on the Top 10 hit I'll Be Your Baby Tonight, also paid tribute to him, saying: "We are shocked and saddened by the news of Robert's sudden death."
Elkie Brooks, who spent almost five years performing in bands with Palmer in the early 1970s, described him as "an amazing talent" whom she had loved dearly but who could be trying at times.
"He was wonderful, highly intelligent and very talented, as he has proved. When things were going well it was awesome but sometimes when things were going less smoothly he would be standing on the sidelines as if it was nothing to do with him. But that was Robert."
Palmer was born in Batley, West Yorkshire, in 1949 but spent much of his childhood in Malta, where his father was stationed with the British admiralty. At 12 he returned to Yorkshire and his family settled in Scarborough, which he has said was a culture shock.
"Until then I'd had a pretty glamorous time, going to the beach and being taught in small classes, so the level of education was really good. When I got back to England I was two years ahead and got bored with lessons. I became a loner and kept myself to myself, so I got out and joined a band when I was 16," he recalled.
That band was the Alan Bown Set, which he joined while a graphic design student. By 1970 he was part of the jazz band Da Da and the following year he and some other members left to form blues-rock band Vinegar Joe. He shared lead vocals with Brooks but despite critical acclaim and a contract with Island Records, they did not have a hit.
Island boss Chris Blackwell realised Palmer's potential and gave him a solo deal.
His first minor success in the UK came with Every Kinda People in 1978 which reached number 53, although it got to number 15 in the US charts. Other singles followed, including Johnny And Mary, and Looking For Clues, and in 1982 he had his first top 20 success with Some Guys Have All The Luck, a cover of an old Persuaders number, which reached number 16.
In 1986 his album Riptide produced the single Addicted To Love, which was a No 1 in the US, where it earned him a Grammy. The slick video, featuring a suited Palmer backed by a group of guitar-strumming models, became an enduring image of the 80s.
In an interview with the Guardian last November he said: "I hardly ever get asked about music. I do, however, get asked about the Addicted To Love video and my suits on a daily basis."
Rebecca Allison & Joe Henley (The Guardian - 27 septembre 2003)