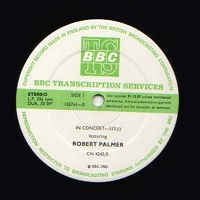 Titre : BBC In Concert
Date de publication : 1983 (EU)
Label : BBC
Type : Album promo
Morceaux :
1. Every Kinda People (live)
2. What Can You Bring Me (live)
3. Dance For Me (live)
4. Want You More (live)
5. You Can Have It (Take My Heart) (live)
6. Woke Up Laughing (live)
7. Say You Will (live)
8. Sneakin' Sally Through The Alley (live)
9. Pride (live)
10. Sulky Girl (live)
11. Looking For Clues (live)
12. You Are In My System (live)
Transcription d'un concert donné par Robert Palmer au Hammersmith Palais de Londres en 1983.