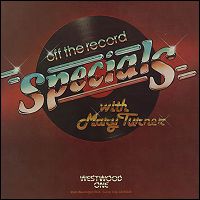 Titre : Off The Record Specials With Mary Turner
Date de publication : 1988 (US)
Label : Westwood One
Type : Album promo
Morceaux :
1. Hey Julia
2. Hyperactive
4. Get It On (Bang A Gong) - The Power Station
5. Some Guys Have All The Luck
6. Casting A Spell
7. Sulky Girl
8. You're Gonna Get What's Coming
9. Sneakin' Sally Through The Alley
11. Between Us
12. Change His Ways
13. I Didn't Mean To Turn You On
14. Addicted To Love
15. Bad Case Of Loving You (Doctor, Doctor)
16. Some Like It Hot - The Power Station
Emission radiophonique évoquant la carrière de l'artiste.