Some Guys Have All The Luck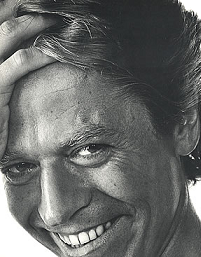 Robert Palmer has just finished reading the latest biography of Marvin Gaye. One of his heroes? "The closest I can get to a hero. I don't believe in heroes. In fact, I don't believe in anything. Belief insults the mind," he says.
Such an expression of neo-nihilism in pop would be more fitting coming from the lips of moaning Morrissey than the silver-throated crooner of white soul with a seasoned 15 years in the business. Surely he has a modicum of self-belief still to be at it after so long.
But alongside the slick rhythms of the "Miss You, girl" songs and the Johnny And Mary chronicles, there has always been an element of turbulence in Robert's work. So it is appropriate thatb his latest album, out this month, is called Riptide. He describes it as "up-tempo rhythm and blues - another step along the same non-formula of my other records" but it sounds more approachable than his last solo effort of two years ago, Pride, which the critics damned as inaccessible and avant-garde. even he can now see their point.
Robert quit the Power Station (the "supergroup" collaboration with Duran Duran's golden brothers John and Andy Taylor) in June to complete his album, even though it meant turning down the chance to tour with them in the summer. But the connection lingers - he used the Power Station drummer, Tony Thompson (ex-Chic and Bowie), on half the tracks; and having produced his own records for the past six years, has this time employed the skills of the Power Station's Bernard Edwards, former Chic bass player. His admiration for Edwards is boundless: "When I finished the vocals for the Power Station, I just left them to it; I felt it was their project. But when they'd finished and put it all together, I was amazed - they'd made a silk purse out of a sow's ear. So this time, with my album, I left Bernard to it - I thought I'd see what he could make out of a silk purse."
His solo career has flourished since he quit Vinegar Joe, which also featured Elkie Brooks on vocals, in 1974, but he found working with a band again a great stimulant. "It was a happy accident that we got together. I got involved in the Power Station because I knew the drummer and I known John and Andy socially for ages and liked their spirit. When they sent me a cassette to listen to and maybe put lyrics and a tune to, I was sold. Producing the album and the follow-through media promotion had a great spirit to it."
The Power Station also brought him in contact with a level of hype he has always managed to avoid in the past - "But I could do it within the shelter of the Duran thing without having to gross out," he says - and a mass market commercial recognition which has mostly avoided him. The Power Station's first two singles, Some Like It Hot and a cover of T-Rex's Get It On, were most successful than Palmer's past singles. He has had only two chart blockbusters - Johnny And Mary in 1980 and Some Guys Have All The Luck, his only British Top 20 single.
In keeping with his own image, he has always enjoyed a loyal but laid-back following rather than the frenzied flash-in-the-pan adoration of chart success. His seven solo albums have all done very nicely thank you, affording the boy from Yorkshire and his family the good life in Nassau in the Bahamas with his own recording studio thrown in. In fact, it is tempting to regard him as the personification of his best song, Some Guys. Especially since at 36, the features are as chiselled as ever and he's still looking good in the fine Italian threads he has made as much a hallmark as his own particular brand of warbling. That's no mean achievement in this business and makes him something of a hero, even if he doesn't believe in them.
WB (1985)