A Look Back On Legend Robert Palmer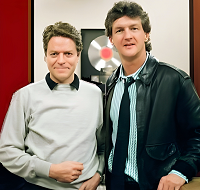 As the story begins, let us turn back the clock to 1972. The scene opens when a mail person enters my office to deliver the morning mail. However he didn't look too pleased and displayed a smirk on his face as he made numerous trips to deliver several armloads of records and magazines. I guess to him I appeared to be a slacker or long haired hippie who indulged himself in receiving postal nonsense. After all, it was a turbulent era, a time filled with chaos and a generation gap so big that you could drive a semi through. As I went through the mail, my favorite publication was in the bundle and posted there on the cover was news from afar. The publication was a music weekly named Melody Maker and it was the British equivalent to the U.S. version of Billboard Magazine. The front-page headlines proclaimed in bold print "Melody Maker's Group Of The Year - Vinegar Joe." Being a stern supporter of music trends that developed in England, I further investigated the article which was written by leading journalist Chris Welch. Come to find out, the article revealed that Vinegar Joe's debut album was on Atlantic Records. That got me excited as Atlantic was my employer at the time. Plus they were a leader in the British Rock movement. As I further scanned, I noticed the band's U.S. tour itinerary that included none other than my hometown of Memphis.
Further details in Melody Maker listed Vinegar Joe's tour dates through the Southern states as they were the opening act for another British newcomer, Wishbone Ash. Not your everyday box office ticket rush. But never the less Vinegar Joe was given a small opening for a big opportunity. In those days most of the smaller tours featuring groups that didn't have a hit record, the purpose was to expose them to the general public and sometimes the record companies would under write the band's expenses in an effort to offset any loses occurred at the gates.
Based on the strength of the article, I convinced a senior executive at Atlantic to allow me to get involved. After some reluctance, finally he agreed and I was given the opportunity to tour with the group to set-up FM Radio and underground press interviews. Plus the after concert meet-and-greets had become a new found popularity with young broadcasters and aspiring journalists. But confidentially, the home office in New York considered the tour as a yawner as Atlantic was about to unload tons of new releases on several of their major artists. It was during these uneventful tours that the home office brass referred to me as a "Groupie" because of my desire to tour with the unknown bands. During that same time I was absorbing myself with the reading material of a new underground rag called Rolling Stone Magazine. However, back at the home office, it seemed that major emphasis was being focused exclusively on the publications Billboard, Cashbox and Record World. Yet, no one was actually assigned to call on what they considered as the "Hippie Press." This oversight left me puzzled. As you had it, the general consensus from my corporate officers was that they thought these publications were operated by guys who smoked dope all day and didn't practice hygiene. Their major concern at the time was for Top-Forty Radio. Oh by the way, I took on the additional task to inform my managers of the importance of Melody Maker also. So, off to meet Vinegar Joe I went.
Vinegar Joe's vocalist was a sassy young beauty named Elkie Brooks who had created a huge following throughout the British Isles. Her husband Pete Gage was the guitarist in the band and acknowledged as a foremost bandleader. Next, there was a handsome lad who was positioned on the far side of the stage and a mere backup singer and tambourine player by the name of Robert Palmer. Despite Palmer's low profile and background status, his soft eyes and silky smooth vocals were very much appreciated by everyone all the way to the back row of the audience. When the Southern leg of their U.S. tour began, Elkie Brooks, Pete Gage and I flew in advance of the bands travel arraignments to set-up their forthcoming evening's performances with pre-show interviews. After visiting several radio stations, the band's album experienced moderate success as it received airplay at WRAS-FM in Atlanta, WWOM-FM in New Orleans, WORJ-FM in Orlando and WBUS-FM in Miami. However, several days into the tour and after long hours of a grueling schedule, I sensed that the tour was not producing the magic needed to capture an American audience. This is not to say that Elkie Brooks and Peter Cage or Robert Palmer didn't bust their asses or meet expectations. It was just the fact that without a hit record only small crowds attended their concerts plus they were only the opening act for a mediocre headliner, Wishbone Ash.
After a convincing Vinegar Joe performance at Ellis Auditorium in Memphis combined with a Bar-B-Q dinner at the famous Rendezvous Restaurant, both bands, Vinegar Joe, Wishbone Ash and myself were invited to a party at the infamous location known in prominent rock circles as '3744 James Road.' It was a plush location resembling a Southern style mansion and fashioned with tall white columns stretching out over the front porch. From the long driveway entrance you could view a fashionable porch swing and rocking chairs suitably fitted for the setting. As we drove up to the house, it appeared we were approaching a scene from the movie Gone With The Wind. This was the residence of several industry notables and their families; WMC-FM 100 disk jockey Jon Scott, MCA Records' Bruce Bowles, and a local RCA Records' rep named Phil Rush. As most Rock and Roll parties generally go, people were staged all over the entire house, the kitchen, living room, entrance stairwell, and yes, the front porch. The sweet fragrance of imported cannabis filled the air combined with handfuls of Dr. Nick's Quaaludes that were passed out as party favors. Throughout the night, loud music played while the stoners pulled motorcycle wheelies in the drive way. All while entertaining all the special party guest. But as the clock ticked-on well into the evening, guess who got sick and blew chow all over the kitchen? It was about that time that I got well acquainted with a sick Robert Palmer and drove him back to his hotel in downtown Memphis. No one told me that an Atlantic promotion man had to pull baby sitting duties.
But Robert Palmer was only a back-up singer in the Brit's version of a R&B band. As good as Vinegar Joe was, especially live on stage, the unit was unable to capture their magic on record. After three respectable albums on Atlantic, the tightly knit band hit a crossroads. After several unsuccessful U.S. tours, Vinegar Joe disbanded in 1973. At that time Robert Palmer and Elkie Brooks pursued a solo careers. Palmer landed with Chris Blackwell's Island Records which was distributed by Atlantic Records. There he experienced a successful solo career with numerous chart records. Elkie Brooks soon signed with Atlantic's former European manager, Frank Fenter, who had relocated to Macon, GA to help establish Capricorn Records with partner Phil Walden.
During the period between the 1970's and the 1980's, music was very much a fabric of life for Pop Culture. FM Radio proved to the essential pipeline for the movement while new publications offered literary support. Cassette players armed with dual speakers were a must for your vehicle combined with an essential traveling case full of new releases. Times were good during this era as I remember traveling down the highway with a group of friends in my buddy's brand new van. I remember sitting in the rear of the truck and firmly planted in a bean bag with the ceiling vent open and smoke pouring-out of the roof in what resembled a scene from a Cheech and Chong movie. It was 1974 and we were on our way to a canoe trip on the Buffalo River in The Ozark Mountains when my buddy Ray King slipped-in a brand new cassette by vocalist...Robert Palmer.
It was Palmer's first solo release on Island Records when suddenly the focus became centered on the music blasting out of the speakers. It appeared for a moment that time stood still. I glanced around the van and no one on board was talking while everyone began bobbing their heads in unison. It was like we'd previously rehearsed this jester as a group and now given our cue to nod our heads. The first song pouring out the speakers was Sailing Shoes, a song previously recorded by Little Feat. Next came the song Hey Julia. And then the ultimate killer, Sneakin' Sally Through The Alley. Wow! Three stellar tracks that sounded funky, soulful and flowed together to make a single entity. Yet all three had enough rock fusion for me to grab the cassette liner notes in search of musician's credits. But inside the cassette package there was nothing listed, no information about the sessions or credits given. This lack of information on the album left me puzzled and sent me on a extended mission to investigate.
After a lengthy search and based on this influential album, the following information surfaced; The title song Sneakin' Sally Through The Alley was written by noted New Orleans producer Allen Toussaint. Plus, the song was recorded first by the great Lee Dorsey. Toussaint's talent as a songwriter and producer were continually in demand. He was also involved in some of the production for this album while his own Sea-Saint recording studio was used for several sessions. There were also rumors that Little Feat played on Palmer's solo album but come to find out that only guitarist Lowell George participated in the recording. But make no doubt, his tasteful influence is felt throughout this fine album. In addition, Toussaint recruited a New Orleans mainstay by bringing in the rhythm section of The Meters consisting of Art Neville (keyboards), Leo Nocentelli (guitar), George Porter (bass), and Joseph Modeliste (drums). The recording session appeared routine until Palmer's soulful voice quickly jelled with The Meters R&B groove. Legend has it when band members heard his voice they stopped and asked "What did you say your name was again?". Those parties played on tracks # 1 and 3. Track # 2 was recorded with UK musicians Jim Mullen (guitar) and Jody Linscott (percussion) who may have overdubbed on additional tracks. The musicians on track # 4 on this album are undetermined. Tracks # 5, 6, 7, & 8 are with the rhythm section from New York consisting of the great Cornell Dupree (guitar), Richard Tee (piano), Gordon Edwards (bass), and Bernard Purdie (drums). Credits on this album were resolved sometime later by Robert Palmer and former Vinegar Joe bassists Steve York who also played harp solo on Sneakin' Sally Through the Alley.
By 1975, Palmer's solo career was further established when he released his second LP, Pressure Drop. This album displayed his keen interest in reggae music infused with rock. Plus, the album's cover began his long identification with sex appeal and the promotion of his youthful looks. The album featured yet more Allen Toussaint and Lowell George compositions together with a Pete Gage (Vinegar Joe) song. Later that year Robert Palmer opened the Little Feat tour to promote the album.
Yet, Robert Palmer's body of work had just begun as his long and successful relationship with Island Records would span over two decades. His next album in 1976 titled Some People Can Do What They Like continued to set the trend of using the same players as featured on his first two albums. Plus, his skill as a writer of ballads became apparent. A short period later and after moving to the Bahamas, Palmer's appreciation of Caribbean influenced music was highlighted in his commercial breakthrough album titled Double Fun. This 1978 album is recommended for everyone's library and produced the Andy Fraser penned hit single Every Kinda People. This marked Palmer's most successful release to date by charting at #16 on Billboard's chart. Secrets was released in 1979 and recorded at Compass Point Studio in Nassau, Bahamas. The album produced the hit single Bad Case of Loving You (Doctor, Doctor) which became one of Palmer's signature tunes while reaching #14 on the U.S. charts. Secrets also produced additional hits while the LP was very deep with artistic influence. Yet, Robert Palmer was just rolling up his sleeves with much more to follow.
In 1980, Robert Palmer's album Clues developed into the latest trend of music with the fusion of electronic pop and synthesized experimentation. Despite it's lack of commercial success, it was indicative of Palmer's music, which in many cases was ahead of it's time. The album contained Johnny And Mary, Not A Second Time and Woke Up Laughing. The next album was Pride and released in 1983. Again, Robert Palmer was ahead of his times while the LP produced the memorable You Are In My System. In early 1984, Robert began his realisation of the development of being a part of a 'supergroup' when he collaborated with John Taylor and Andy Taylor of Duran Duran and drummer Tony Thompson on the production of The Power Station. This Capitol Records release produced the songs Get It On (Bang A Gong) and Murderess.
1985 was a triumphant year for Palmer as he released the album Riptide. Almost immediately a groundswell of interest began to develop. The LP produced the monster #1 single Addicted To Love. The song was originally recorded with Chaka Kahn sharing lead vocals but due to contractual issues with her record company, she was removed from the track and the rest is history. This time Robert Palmer's good looks and rock production video was a perfect fit for MTV as the album hit # 8 on the Billboard chart. The album also produced the Earl King penned song Trick Bag. Plus additional hits such as Hyperactive, I Didn't Mean To Turn You On and Discipline Of Love.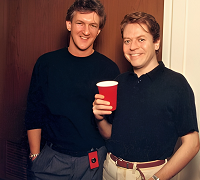 The flood gates were open when in September of 1986 Robert won Best Male Video Category at the annual MTV Video Music Awards. Later, Robert won the Best Rock Vocal Performance, Male Category at the 29 annual Grammy Awards. The Island Records marketing team guided by a crafty promotion director named Phil Quartararo who brought the goods home at radio and in turn rewarded all his team members contributing to this successful project with Platinum Record awards for their efforts. Following the enormous success of the Riptide album on Island Records, Robert Palmer finally gets his first number 1 record titled Addicted To Love. Riding the success of his guitar-driven rock and sleek wardrobe of elegant suits, Palmer's video becomes MTV's national anthem. His sexy video, or sexist video - depending upon your viewpoint, featured a dozen mini skirted models performing behind him and created what Palmer suggested was "a jarring effect video." His follow-up single I Didn't Mean To Turn You On displayed still a different side of his music and peaked at number 2 on Billboard's chart. Strangely enough, after 14 long years of fractured successes with Island Records, Palmer departs the record label and signs with London based EMI Records.
Impracticable as it may sound, a very unusual career circumstance developed for myself in 1986. While in the process of EMI Records signing Robert Palmer to a long-term contract, I also joined EMI Records as their Regional Promotion & Marketing Manager for the Northwest. This would mark as the third consecutive record label over a course of two decades in which I would represent Robert Palmer as his promotion & marketing representative. First, there was Vinegar Joe on Atlantic Records in the 70's, next there was the platimum record of Riptide with Island Records as an independent promoter in 1985, and now with EMI Records as his field representative.
Having paid his dues with Chris Blackwell's Island Records and seemingly at the apex of his career, Palmer's eclectic musical journey would reach even further heights upon signing a new label deal. His first release with EMI Heavy Nova produced the knockout hit Simply Irresistible in which again Palmer was immortalized in a video being surrounded with deadpan models pretending to be his backup band. The Terrence Donovan produced video was undoubtedly the signature event of the times while having portrayed Palmer as the modern day Don Juan. Yet Palmer insisted the video clip was all in a days work and that he knew nothing of the scripting of elegant females prior to taping.
EMI was a red hot label at the time with a promotion staff that was considered very skilled at 'running a record up-the-charts'. Robert Palmer's career background painted a different picture however with him being an artist that had always been considered primarily an album artist. All this was about to change when promotion guru Jack Satter and his EMI marketing team carved-up numerous hit singles that established Palmer in a field that he previously had not dominited.
The Heavy Nova album produced hit single Simply Irresistible and the ever popular video with Palmer and a troupe of lovely females. The single peaked at number 2 on Billboard's chart and earned Palmer his second Grammy Award. His next two singles She Makes My Day and Early In The Morning both proved to be hits with substanial chart successes. But as the true inovator, Palmer sprinkled-in a few surprises on the Heavy Nova album with songs flavored with bossa nova rhythms, beautiful balladeering with romantic lyrics with string arrangements and ofcourse the favorite guitar-oriented rock songs. Robert Palmer's awards kept pouring in whereas in 1990 Rolling Stone magazine voted Palmer the best-dressed rock star for that year.
Don't Explain was Palmer's next album and displayed even more of his diverse musical styles including R&B, jazz, rock and music from the islands. Guests on this album included UB40 and featured the Bob Dylan penned I'll Be Your Baby Tonight that was a Top 10 chart record. Plus, the Marvin Gaye cover song of Mercy Mercy Me/I Want You was a bold and respectable offering to a classic song which ultimately continued to link Palmer with his strong female audience. Of all of Robert Palmer's works, two of my absolute favorites comes from this lesser known album being the Otis Redding song Dreams To Remember and also a song co-wrote by Palmer and his long time companion Mary Ambrose titled Aeroplane. Beyond a doubt, Don't Explain was truly a great album.
The album Honey was just another example of Palmer being ahead of his time with a brilliant album producing one of the greatest pop songs ever composed, Know By Now. I've read a great deal of critism from outside observers saying Robert Palmer's record label EMI dropped the ball on the merchancising of this album. The truth of the matter is, by this time, Palmer's long time manager David Harper and the label had shared some touchy issues regarding his contract renewal. Disagreements that reflected the bottom line. Don't try to read too much into the decline of support from the label at that time. Just embelish those great albums released by EMI in the 90's when Palmer's creativity reached frutition.
My association with Robert Palmer remains as my most memorible being that we worked together at three different record labels over a period of three decades. Of course our stint together at EMI was the most rewarding. Chart successes always have a way of leaving a noteworthy trail of recollection. The truth of the matter is Robert Palmer and I weren't that close but somehow it seems like everyone in the music business always has a way remembering each others good vibes. And ours were quite strong. Never mind the fact that Robert Palmer always referred to myself by calling me 'Seattle' instead of my real name. I just remember his pleasant posture towards a grinding schedule of interviews, autographs and endless photographs with everyone and their uncle. On one unforgettable tour through the Northwest, Palmer was performing at The Pier in Seattle when he asked me to drive him to Sea-Tac airport to pick-up his girl friend, Mary Armbrose. I offered to loan him my car when he responded that he didn't know how to drive a automobile. Said that he'd never learned to drive. Hmm. Imagine that. Once we'd made the journey to pick-up Mary at Sea-Tac, those two love birds sat in the back seat and smooched the entire way back to the hotel. Dinner that night was at his favorite Tai Food restaurant on Queen Anne Hill. I sat next to long time drummer and former Memphian Dony Wynn and reminised about living in Soul City. While sitting across the table from Robert Palmer, we struck up a conversation when I asked him "What do you do in your spare time?" I thought that perhaps he was a chess player, or maybe even a golfer. He paused for a moment while looking-up from his cup of hot tea and offered, "In my spare time-I love to play music." At that time the waitress aproached when he ordered a 5-star Tai special. Within minutes after receiving his meal, Palmer's forehead was completely red from the hot pepper spicing when sweat begin dripping down onto his plate. Before the dinner was complete, I had to ask him one more question that had bugged me forever; "Robert," I said, "What is the story behind the song Johnny and Mary? Palmer smiled and seem amused while replying, "It's about a married couple who have been together for so long, they've lost touch with each other and don't communicate." I asked him in response, "Kinda like John Prime's Hello In There or Neil Diamond's Brooklyn Roads? But someone at the dinner party grabbed his attention and a response was never given.
Widely regarded as Rock's lone pioneer with the fusion of Reggae, syncopated keyboards and guitars with techno beats, Robert Palmer was clearly ahead of his times. He was that good and deserves much more. Plus, he can be so much better appreciated than the deeply infused video of 'dancing goyals'. As Robert Palmer would say..."Anything but typical". I'm proud to say that I have tons of stories and photographs to support my brief time spent with this great artist. He was one of the few music icons who grew in popurlarity with steady growth over the 70's, 80's and 90's rather than pop-up today and fade-away tomorrow. It's unfortunate that we're talking about the passing of what I'd consider to be a pop star legacy of the magitude of Sting, Rod Stewart or Phil Collins. Pure class.
Palmer's last album is titled Drive released in 2003 and was critically hailed as his grittiest album of his career. Don't underestimate this splendid album. It features fifteen blues standards plus my favorite original composition from the album titled Lucky. That song alone is worth the entire album and has the capabilities of defining his voyage into the future.
Robert Palmer died of a heart attack in Paris, France in 2003. He was 54 years old. Palmer is buried in Lugano, Switzerland where he had lived for the last 15 years. God rest his soul.


Phillip Rauls (2008)