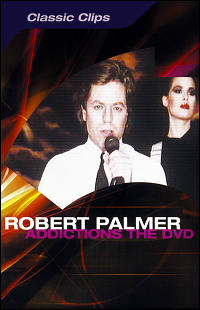 Titre : Addictions: The DVD
Date de publication : 2003 (UE)
Label : Island
Format : DVD
Clips :
1. Sneakin' Sally Through The Alley
4. Bad Case Of Loving You (Doctor, Doctor)
7. Some Guys Have All The Luck
8. Pride
10. Some Like It Hot - The Power Station
11. Get It On (Bang A Gong) - The Power Station
12. Riptide
13. Addicted To Love
14. I Didn't Mean To Turn You On
16. Sweet Lies
18. Every Kinda People ('92 remix)
Réédition en DVD de Video Addictions, soit la rétrospective des meilleurs clips de Robert Palmer commentés par l'artiste lui-même en 1992, conjointement à la sortie de la compilation Addictions Vol. 2. Ce DVD est également inclus dans la version Deluxe de la compilation At His Very Best publiée en 2004.