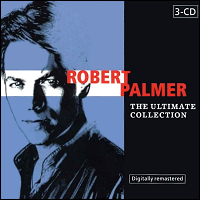 Titre : The Ultimate Collection
Date de publication : 2003 (UE)
Label : Universal
Type : Compilation
Morceaux :
1. Sneakin' Sally Through The Alley (remix)
2. Give Me An Inch (remix)
3. Man Smart, Woman Smarter (remix)
4. Best Of Both Worlds
5. Every Kinda People (remix)
6. Where Can It Go?
7. You Really Got Me
8. Bad Case Of Loving You (Doctor, Doctor) (remix)
9. What's It Take?
10. Can We Still Be Friends? (remix)
11. Too Good To Be True (remix)
12. Remember To Remember (remake)
13. Johnny And Mary
14. Found You Now
15. Looking For Clues (remix)
16. Some Guys Have All The Luck
17. Maybe It's You (remix)
18. You Are In My System (re-voiced)
19. Pride
20. You Can Have It (Take My Heart)
21. Some Like It Hot - The Power Station
22. Get It On (Bang A Gong) - The Power Station
23. Riptide
24. Addicted To Love (edit)
25. Hyperactive
26. I Didn't Mean To Turn You On
28. Sweet Lies
29. Sneakin' Sally Through The Alley (live)
30. What's It Take ? (live)
31. Best Of Both Worlds (live)
32. Every Kinda People (live)
33. Bad Case Of Loving You (Doctor, Doctor) (live)
34. What Do You Care (live)

Les 28 titres studio de cette compilation ont été réédités en 2006 sous le titre The Very Best Of Robert Palmer