Robert Palmer: An Appreciation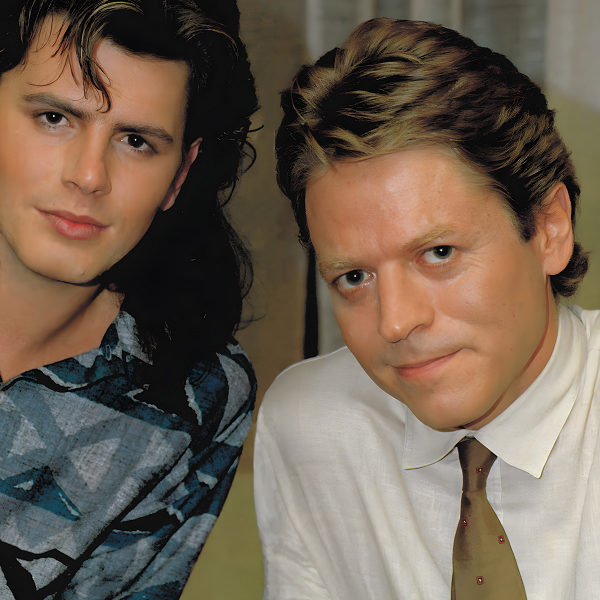 I haven't heard much from Robert Palmer lately. I had a postcard, written in blithely drunken type from Tokyo earlier this year: 'Thinking of you...' signed... Simon and Yazzy, Robert and Mary XXX... but that's all.
A compilation album came out, two or more years ago I remember. Was it love songs? Or world music? It could easily have been either. Robert could plumb his catalogue for rock & roll, dance, new technology or romance, and come up with albums of brilliance and beauty, humor and hi-octane energy.
I think that it must have been late '80 when I first saw RP play, at the Odeon in Birmingham. I reckon it was Clues he was selling, although he had the two drummer line up that would record the subsequent Pride. Clues is an album that defines the beginning of the '80's.
Looking For Clues was the MTV hit, and Johnny And Mary would influence Bruce Springsteen (Dancing In The Dark) and Rod Stewart (Young Turks). I Dream Of Wires and Found You Now were co written with Gary Numan. Robert had discovered the joys of electronica and home recording. He had become a master of stylistic juxtapositioning, check out track 5, I Dream Of Wires, into 6, Woke Up Laughing.
This was quite a leap from his previous album and not a little disconcerting to his audience. 1979's Secrets was pure American FM, with enough rock and roll to please your rock DJ. Doctor Doctor was the hit song on that set, which would become an anthem for him, but it ain't one of my favourites.
Robert would always show impeccable taste in uncovering and covering other peoples material and on this album he wisely chose Can We Still Be Friends by Todd Rundgren. (In fact 'The Covers' would be another cherry in the reissue canon.) This was the album in which Robert started to show his rock roots, move away from the pure soul of his earlier albums. Sales in the US, at least, increased accordingly.
He always had an image problem at home in the UK and in the music press. The media never really liked him, they didn't trust him. He was too good to be true (to quote one of his own songs.) He was too smart, too cute, and dared to live abroad in the Bahamas!
Robert and his family shacked up at Compass Point studios in Nassau, since 1975, in one of the studio bungalows, next door to Chris Blackwell's mom. (Chris Blackwell, owner of Island records and Compass Point, had been RP's champion for years, now he was his landlord). 'Where Robert Palmer Made His Home' was probably the most known single fact about him in the late seventies, which for a Yorkshire boy in his twenties was a no go.
But that's an English disease. Robert was born in Malta, an English sovereignty in the Mediterranean (on the map beneath Sicilly) in January 1949. He was raised in the very English town of Batley, outside of Leeds, in Yorkshire. He worked as a teenager in graphic design, but gave that up in '69 for work as a singer with the Alan Bown Set.
From them he joined DaDa with Elkie Brooks, and DaDa (not to be confused with my Dada) would become Vinegar Joe. Robert sang and played rhythm guitar. He would make several albums with Vinegar Joe before signing with Island as a solo artist, aged 25, in 1974.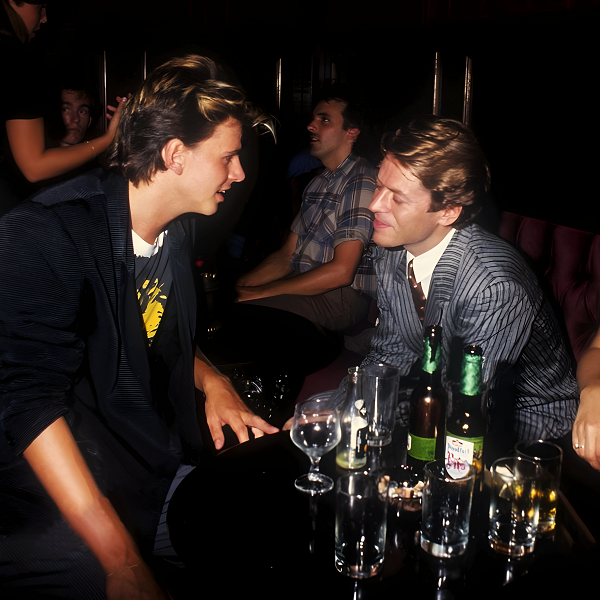 Sneakin' Sally Through The Alley established his nibs as a solo artist of talent and taste, both as a performer and a producer, and his albums would always read as a veritable who's who of hip. Robert's taste in graphic arts also impressed me from the start.I consider the covers of his early albums small masterpieces.
As would become typical and to some critics debilitating, the 1975 album Pressure Drop grooves in many directions. For bass players it's an important album, featuring some of James Jamerson's best work away from Motown. The combination of Robert's voice and Jamerson's bass on track 1, Give Me An Inch, is breathtaking, as on Which of Us Is The Fool, the Supremes-esque album closer. In between there's a variety of cool and sweaty R & B, and an authentic cover of the Toots Hibbert reggae number that's lends the album it's title.
Some People Can Do What They Like in 1976, was coloured by the presence of Little Feat and New Orleans rhythms.
The fourth album would capture the mood of the seventies quite perfectly, with its quasi disco sophistication, and a larger audience to boot. Double Fun (with a very sexy Hiro cover photo- he also shot The Stones Black And Blue that year) would yield Robert's first hit single, Every Kinda People, written by Free bassist Andy Fraser. I love this album. It's always so satisfying when a white English boy manages to get away with an album full of bona fide American soul, such as Bowie's Young Americans. This album grooves like a Rufus record. Robert's star quality was undeniable at this point, and next year, 1979, Secrets, would build on this success.
This brings me back to Clues, produced by Alex Sadkin (Seven and The Ragged Tiger), the album that kicked off my eighties. On the cover, Robert, knee deep in the Bahamian tide, is absorbed in the music he is playing on his Walkman. It captures his lifestyle perfectly. To so many of his critics he is a show off and a dilettante, but his passion is genuine. Very few artists can claim to have created an oeuvre as satisfying as his.
Pride is another corker, chock full of beautiful songs, it has an elusive, idiosyncratic edge that sets him apart from his peers. The deviant in Robert really shows on this album, (frustrations at home, secrets in love) and the public didn't buy it.
I once interviewed Robert for TV in Europe, and he talked so excitedly about hearing You Are In My System in a New York nightclub and having to record it last minute for inclusion on this album. I would learn that his charm and enthusiasm for all sorts of music was infectious.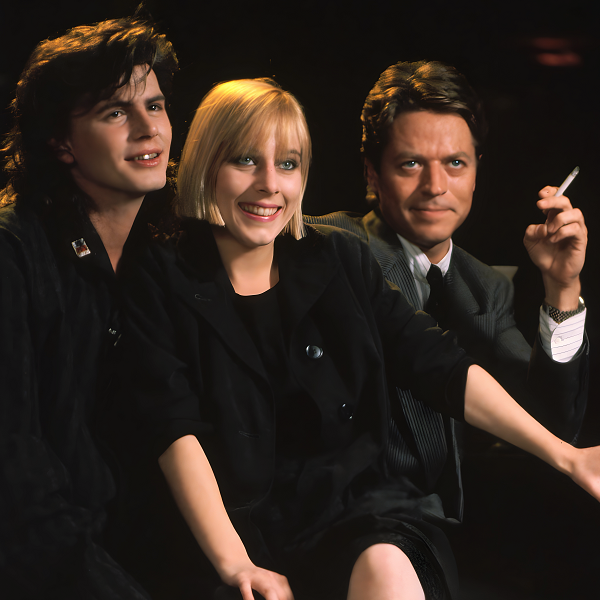 Of course, Robert's and my paths crossed in a big way for The Power Station in 1985. He was meant to sing only one song for that project, Get It On (Bang A Gong). We had intended on using different singers for different songs, but when we heard Robert's voice set to our music, we knew we had the voice to 'the band'.
A crazy year for me, I flew to Nassau for a long weekend and we got the kernel of the lyric to Some Like It Hot. The album turned out better than any of us had imagined, so we planned a road trip, but Robert had other ideas. He took the Power Station's Modus Operandi by the throat, and along with producer Bernard Edwards, crafted the perfect Riptide.
Addicted To Love, as a reward for Robert's single minded dedication to the craft became the years best seller. That song and I Didn't Mean To Turn You On (what a cover!!) kept Robert on MTV all year long. He said goodbye to Island with that album, and The Bahamas, and made a megabucks deal with EMI.
He made great music for EMI too, not just Simply Irresistible. The follow up to Heavy Nova, Don't Explain, presented Robert as the master technician, 'Your World Tour Guide to Sophisticated Musics', from down and dirty rock and roll to forties swing by way of Soweto and Rio de Janeiro.
We put Power Station back together in 1993, but the buzz wasn't there; I jumped ship this time, letting them tour without me.
For me the style of Robert Palmer resides on his Island recordings. For those albums alone he has a place in the pantheon of (for want of a better cliche) rock's elite. Today you can buy 'Greatest Hits' type albums, or 20th Century Masters. There is last years' Rhythm and Blues, but look to the albums I have described for artistic beauty and pioneering work. He is much underrated and I miss him. Thanks for the memories, Bob!

John Taylor (2000)