Compass Point Story (part IV)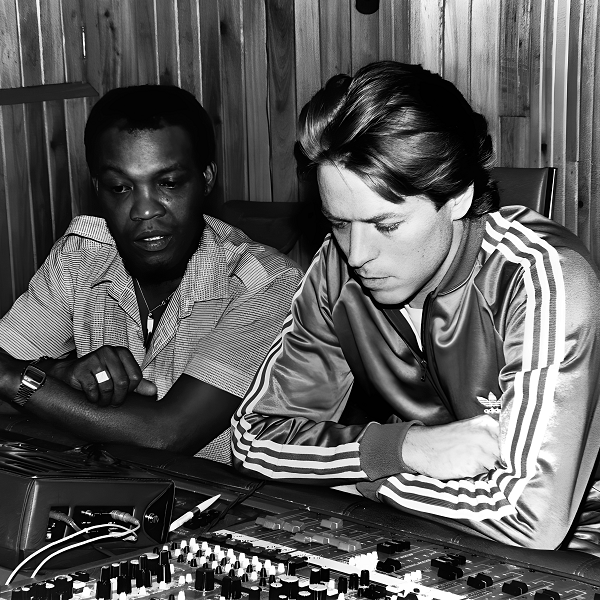 As Tom Tom Club were getting their act together, cockney-styled singer Ian Dury and his longstanding song-writing partner, Chaz Jankel appeared in Studio A to record Lord Upminster with Sly and Robbie and keyboardist Tyrone Downey, a regular member of Bob Marley's Wailers for much of the mid-1970s. Although very little had been prepared before Dury and Jankel arrived in Nassau (because, according to Jankel, "Ian was getting a little bit blasé, and thought, 'I'll wing it when I get out there'"), they quickly started bashing out ideas for a controversial number called Spasticus Autisticus, a driving piece of funky post-punk in which Dury lampooned attitudes towards the disabled, refashioning Kirk Douglas' cinematic portrayal of Spartacus to suit his own purposes.
"In a way, it was Ian's swansong" Jankel explains, "it stayed in the set for every single gig he ever did from that point onwards. If I had to say, what one song summed up Ian, I would say Spasticus Autisticus, because of what he said in it. He lived and breathed that song. It was all about Ian not wanting people's charity."
Though given a partial ban in Britain due to its subject matter, Spasticus Autisticus became a top 40 hit in America, where it served as a dance club floor-filler, courtesy of the fat rhythm provided by Sly and Robbie, as is particularly apparent on the dub version that appeared on the B-side of the original 12-inch single. Jankel says that, at the recording session that yielded this track, "You could hear the bass playing through the floor" and notes that Steven Stanley was a big part of the overall sound. "I think he's an absolute genius, he's got a very personalised vision of sound, started his own path. He's also a total eccentric and very quick with his tongue; he's one of the few people I've ever met that could actually silence Ian."
The fact that Lord Upminster coincided with the Tom Tom Club sessions yielded other unexpected connections: not only did Jankel's sister Annabel direct the Genius Of Love video with her partner, Rocky, but Jankel himself wound up in a romantic relationship with Laura Weymouth, rendered problematic due to its trans-Atlantic nature. Nevertheless, their romance inspired some of the forlorn tracks on Chazablanca, the solo album Jankel recorded at Compass Point the following year.
"The problem was that she lived in New York, I lived in London, and neither of us really wanted to give up our home town" he explains. "So some of the songs on the album were reflecting the fact that we couldn't be together but, ironically, I invited her to work on the album with me. In a way, it was natural for it to happen, but I was singing about the pain of not being with her, the difficulties of pursuing a relationship under those circumstances."
Such sentiment is apparent on Whisper, which features Laura singing in tandem with Chaz. "She offered up the lyric, 'When there's shouting all around, it takes a whisper to be heard,' and we built it up around that…" he recalls. "I brought drummer Jamie Laine from London with me, and (assistant engineer and local funk musician) Kendall Stubbs played bass."
Jankel says that, during the month he spent recording Chazablanca in 1982, Compass Point was a chaotic but fascinating, place. "Steven Stanley was working overtime" he stresses. "I remember one time he'd been up all night, working on another project, so he comes into the studio and promptly falls asleep at the mixing board. So it wasn't quite as efficient as I would have liked it. But when you work with genius, it doesn't come in a regular shape."
In this period, Compass Point was being pointed in diverse directions. For instance, Scottish post-punk funkers, Set The Tone, came down to cut material that inspired dance fanatics on both sides of the Atlantic (though Steven Stanley says the trio's substance-fuelled rock-n-roll antics grew increasingly tiresome); the most bass-heavy number from the sessions, Dance Sucker, was given its ultimate shape through the mixing skills of noted New York club DJ, Francois Kevorkian, who travelled to Compass Point to mix an extended cut of the track. Kevorkian and Stanley also put their heads together to give a distinctive, otherworldly mix to an unconventional Spanish-language disco track called Obsession, voiced by a Cuban-born disc jockey named Guy Cuevas, who was then resident at a Parisian nightclub called Le Palace; the song had been constructed at Le Chien Jaune, the same studio in which Wally Badarou recorded the keyboard part of Pop Muzik, and after Kevorkian and Stanley were finished with the track, it sounded like some mutant disco number for outer-space aliens. Released in limited number by Island only in France, it has since become a highly prized collector's item.
"It was the first time we worked together" says Kevorkian of Stanley, "and I just remember us 'clicking' right away—very smooth and professional."
Some months later, noted photographer Lynn Goldsmith, who had often been present at Compass Point since being invited to the studio by the B-52s, voiced and mixed a very peculiar number of her own called Adventures In Success, which she describes as 'self-help humour'. The track, which was mixed by Steven Stanley in 1982 and released as a 12-inch single by Island under her alter-ego alias, Will Powers, has a complicated genesis: summoned to Compass Point because Marianne Faithful, Joe Cocker and Robert Palmer were all working on material at the same time and Chris Blackwell hoped Goldsmith could photograph them together, Goldsmith wound up voicing a rhythm Palmer was building in the demo studio he had set up at home, after Faithful and Cocker failed to lay down vocals that Palmer found impressive.
"The rhythm track was a steal from a James Brown thing" Goldsmith explains, "and after having enough drinks, Marianne starts singing some melody, but (Robert Palmer) said, 'No, that's not really it.' Joe comes over and there's more drinking going on; Joe sings a little bit and then he leaves, and (Palmer) said, 'No, that's not really it.' It was about four o'clock in the morning and I had been thinking about if I were to make a record, what I would do; I thought that the human speaking voice was also an instrument and it could be used in certain ways, and I would pick tapes from preachers and use a vocoder on myself and come up with these kinds of positive thinking lyrics, because I thought that music had such a strong effect on our subconscious, that if we could have these lyrics in there and if I could be funny about it, then that would be different than what anybody else did. We have a guy here called Reverend Ike who has a big church up on Park Avenue, and I always thought that the power of those voices and the way in which they spoke was mesmerising, so I always collected tapes; Reverend Ike was my favourite, but I had lots of others."
With such concepts in mind, Goldsmith asked Palmer to turn on his tape recorder. "By this time I was really pretty drunk, so I did my thing and he got so excited about it, he called up Blackwell, and Blackwell came over and got really excited and said, 'I want to put this out.' So I said, 'No, I've been working on this for a long time and I have an idea of how I want to do it and I'm going to go off and do it my way, but Chris, if I come back with something that you like, I want an album, and I want you to be my producer.' So he said, 'OK,' and that's how Will Powers came to be. I left and I went to England, because I had to shoot something over there, and I asked Sting if he would work with me on the song, so Sting and I went into Island's studio in London; he played all the instruments and I was on the Linn drum machine. Then I went down to Compass Point for my first session, and it was just Chris Blackwell, me and Steve Stanley in the studio."
Goldsmith multi-tracked her voice in various guises to portray the song's different characters, with the exception of a very deep voice that states the various 'laws of success', which was provided by a Compass Point stand-in. Although the rest of the album was later crafted with Steve Winwood and Nile Rodgers in New York and mixed by Todd Rundgren, the song 'Adventures In Success' was mixed at Compass Point by Steven Stanley, who added a minor keyboard part and made sure the single was complete with the shimmering dub version presented here. The video that accompanied Adventures In Success is also notable as the first to make use of 3D computer animation.
In addition to voicing Adventures In Success at Compass Point, Lynn Goldsmith was also present for the ill-fated sessions James Brown began at Compass Point in 1982. "Sly and Robbie were very excited about working with James Brown" she recalls, "but James really put people through the torture test. One of the great things at Compass Point was that there really weren't a lot of egos, but James Brown was like a petulant child. I remember when I went to his house to photograph him, James is standing outside in pink rollers with Al Sharpton, and he says, 'We gotta have you frisked, we gotta look through your bag,' so I got frisked, even though I was with James Brown and Ali in Zaire in 1974."
Pour lire la suite, cliquez ici