Compass Point Story (part III)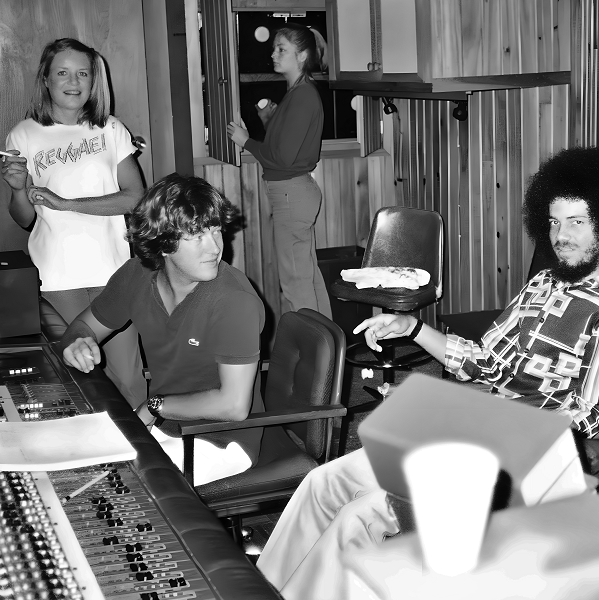 What do you get from the following ingredients? An itinerant non-musician playing a keyboard upside down, three singing sisters not necessarily trained in harmony, an inverted bass line and clandestine handclaps. The answer, obviously, is a hit record that caused a sensation with diverse audiences internationally: Genius Of Love, magnum opus of the Tom Tom Club. Though the original Talking Heads would remain intact for another few years, in early 1981, it seemed the group would not survive the internal pressures that were forcing its members apart: David Byrne and guitarist Jerry Harrison were recording solo albums, so the husband and wife team of drummer Chris Frantz and bassist Tina Weymouth contemplated something of their own, though both were adamant that the work would not be for a 'solo album'… A project with Garland Jeffries producing for Sire Records was mooted, but Chris and Tina preferred to work with Lee 'Scratch' Perry for Island so, after meeting with Perry in New York and verbally securing his participation, the pair decamped to Nassau, but Scratch never turned up as planned. The pair thus began working with Steven Stanley at Compass Point's Studio B in the spring of 1981.
"We were tossing around ideas" Chris Frantz remembers, "and we got a very poor offer from Sire. Chris Blackwell, on the other hand, gave us a very interesting offer, which was, 'You go into my studio.' We'd already been in and done two records at Compass Point at the time, and we'd also introduced (Blackwell) to the B-52s, which I think he appreciated quite a bit."
"(Blackwell) was asking Chris what cover songs Grace Jones might do" adds Tina Weymouth, "and then he invited us to become part of the artists' community that he was starting to form around Compass Point. Steven Stanley was writing a track called Tropical Depression, which I really related to, because it had rhythm and melody, the way that Chris and I loved Kraftwerk. So we said, 'Can we work with this kid?' In three days, we started three tracks: Wordy Rappinghood, Genius Of Love and Lorelei. We didn't know what to write and I didn't want to sing a thing, like, let's just let it be instrumental. But Chris and Steven Stanley were saying, 'No, you've got to sing!' I said, 'What do you mean I have to sing?! I'm a bass player.'"
Tina eventually consented to voice the funky beats that had been laid down with Stanley in loose sessions, and was later joined by her sisters Lani and Laura on backing vocals (with Sly and Robbie eventually borrowed from a Grace Jones session to provide some handclaps). The most outstanding track to emerge from these sessions was Genius Of Love, whose funky root was somewhat inspired by Zapp's club classic, More Bounce To The Ounce, while Tina's dreamy lyrics formed an oblique love song to her beau and saluted a number of music heroes from black America and Jamaica.
Steven Stanley played a big part in the song's construction, which was the result of a complex composite process. It is worth noting that Stanley's career began almost by accident: after his high school teacher noticed him fooling around on a piano in 1975, he brought Stanley to Aquarius Studio to train as an apprentice, where he instantly fell in love with the mixing console; he thus approached Genius Of Love with a similar sense of random openness to that which brought him to his craft.
"One day (Chris Frantz) say he want a groove like More Bounce To The Ounce, with the double-beat first" Stanley explains, "so I use the AMS delay, 150 mili-second. Then Tina came with the bass and we invert the 'More Bounce To The Ounce' bass line… the next morning, they went ahead and write the lyrics — I think they used to read a lot of novels, that's how they always have good lyrics."
Stanley also played the song's idiosyncratic keyboard line, which Chris Frantz reveals was based on a part Frantz played on a demo version of the song. "I always try to play keyboards" says Stanley, "but I don't like to play when anyone's around, because sometimes I do strange things—turn the keyboard backwards, so that I could play comfortable, with one finger."
"When we started the project, I used to play and sing folk guitar" adds Tina, "and I love the Beatles, the Beach Boys, and the Everly Brothers, so I'm thinking what would be really nice is to get some harmony in there." Thus, she invited her sisters to join her in a unitary chorus, intricately arranged by Steven Stanley.
"Then, it wanted some guitar part…" Stanley, recalls, "so they sent for Adrian Belew, who used to play some nice, freaky guitar, and I put a delay on it, so it double up and sound more exciting. Then I realised it's one chord going down, so we sent for Monte Brown, a local guy that used to play with T Connection; I told him I wanted a funky thing, to sound like it was changing the chords."
This unusual mix yielded surprisingly spectacular results, the song's salutation of such high ranking funk and soul stars as James Brown, Smokey Robinson and Hamilton Bohannon ensuring popularity with black America, as well as with the new wave crowd already enamoured with Talking Heads. Indeed, the success of the song on the resultant Tom Tom Club album allowed Chris and Tina to secure a 99-year lease on one of the Tip Top apartments. But why did the song include the cryptic line, "We went insane when we took cocaine…?
"Those were the people that we were listening to when we were going through our courtship" says Tina of the artists named on the disc "and at that time, I was trying to get Chris to quit cocaine. With the (Talking Heads) big band, Busta 'Cherry' Jones and Bernie Worrell were really into it, and Chris was always trying to keep up; I hated it, so that song was my love song to Chris."
Pour lire la suite, cliquez ici